1950 DAILY MAIL GOLF TOURNAMENT
Walton Heath
10 - 12 May 1950
Winner - Charlie Ward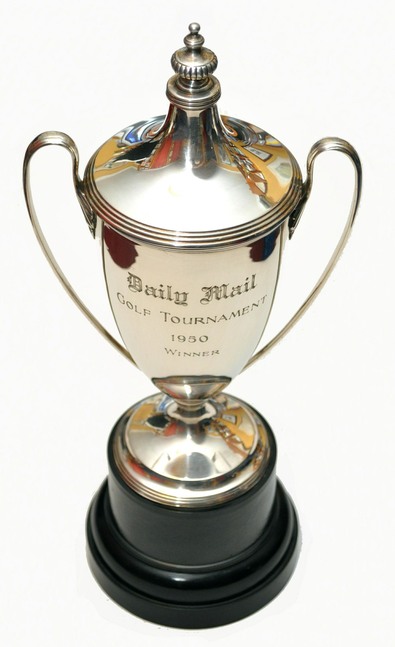 1950 Daily Mail Golf Tournament Trophy won by Charlie Ward
after a play off with Bobby Locke and Ossie Pickworth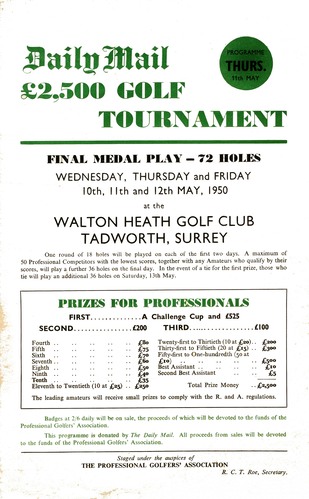 1950 Daily Mail Golf Tournament Official Programme
1957 BELGIAN OPEN
Winner - Bernard Hunt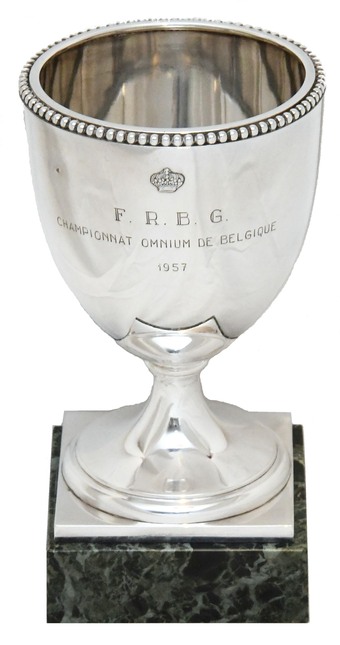 1957 Belgian Open Trophy won by Bernard Hunt
1958 BELGIAN OPEN
Winner - Ken Bousfield
1958 Belgian Open Trophy won by Ken Bousfield
1961 MARTINI INVITATIONAL
Winner - Bernard Hunt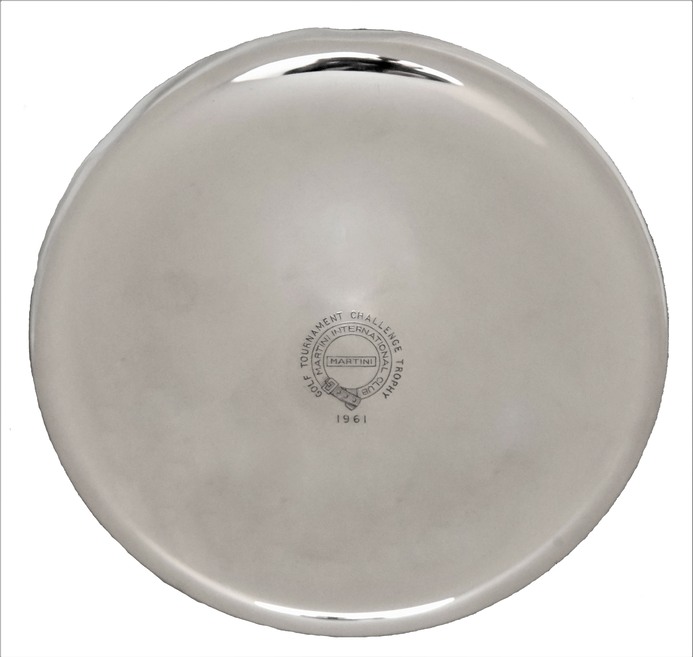 1961 Martini Invitational Trophy won by Bernard Hunt
1961 GERMAN OPEN
Winner - Bernard Hunt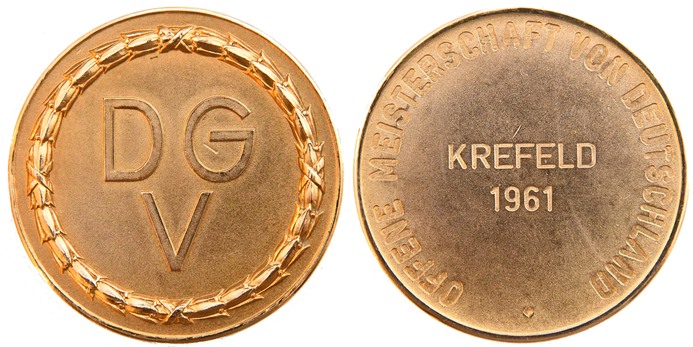 1961 German Open winner's Medal won by Bernard Hunt
1963 NEWS OF THE WORLD BRITISH PGA MATCHPLAY
Winner - Dave Thomas
1963 News of the World British PGA Matchplay Trophy won by Dave Thomas
1966 PICCADILLY TOURNAMENT
Wentworth
Winner - Bernard Hunt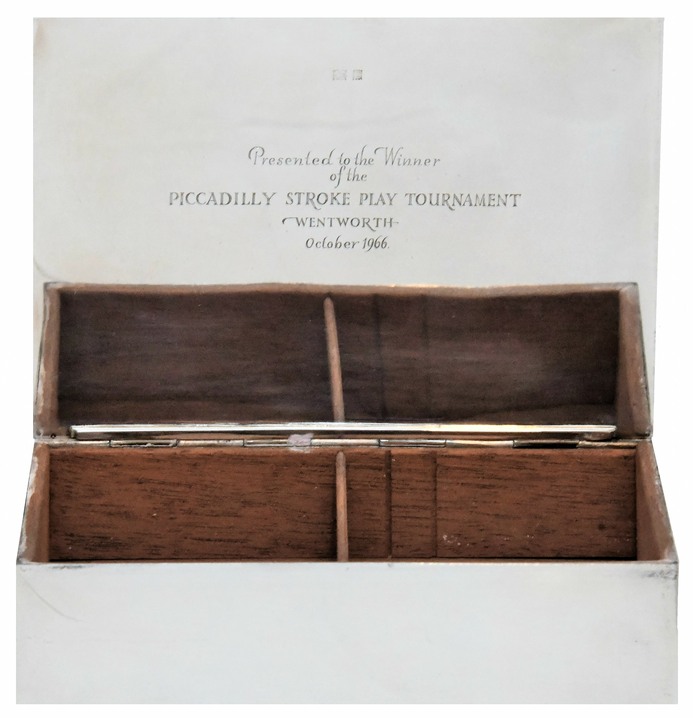 1966 Piccadilly Tournament Trophy won by Bernard Hunt
1967 PRINGLE OF SCOTLAND TOURNAMENT
Royal Lytham
22 - 24 June 1967
Winner - Tony Jacklin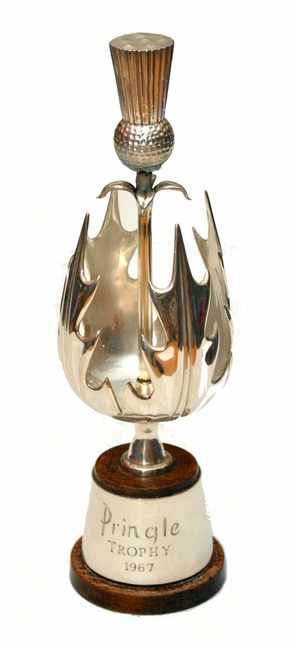 1967 Pringle of Scotland Tournament Trophy won by Tony Jacklin
Pringle of Scotland Tournament
Royal Lytham
22 - 24 June 1967
Position Name To Par R1 R2 R3 R4 Total
1 Tony JACKLIN -1 75 70 68 70 283
2 David SNELL 3 73 66 73 75 287
3 Tommy HORTON 4 74 71 68 75 288
3 Dave THOMAS 4 72 69 73 74 288
5 A GRUBB 5 73 72 68 76 289
"I began to play better and at last won a tournament, the Pringle at Royal
Lytham. My start there was not exactly promising for I began with a seventy-five
but followed it with a seventy and made the cut. In the third round a sixty-eight
enabled me to pull back five shots on David Snell so that with a round to go I
was only one behind. Over the early holes in the afternoon I did not play well
and when I took a seven at the sixth I appeared to have little chance. Tony
Grubb, Tommy Horton, Dave Thomas were all challenging Snell but after a
twenty-foot birdie three at the eight and a par three at the ninth, five of us
were level. I had another birdie three at the tenth, holed from eight yards for a
three at the fifteenth and came back in thirty-two to win by four shots from
Snell. A first prize in England at last and the £750 was doubly welcome as that
night I flew to Canada, having decided to compete on the Canadian Open.
My form improved a lot and tenth place earned me 4,000 dollars."
Tony Jacklin
1968 PORTUGUESE OPEN CHAMPIONSHIP
Estoril Golf Club
Winner - Max Faulkner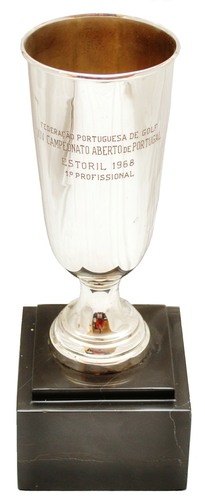 1968 Portuguese Open Trophy won by Max Faulkner, aged 52, in what
was his final Tour Victory
Max Faulkner (right) at the presentation of the 1968 Portuguese Open
championship at Estoril Golf Club. The Trophy can be seen on the table.
1970 W.D. & H.O. WILLS TOURNAMENT
Dalmahoy
23 - 26 September 1970
Winner - Tony Jacklin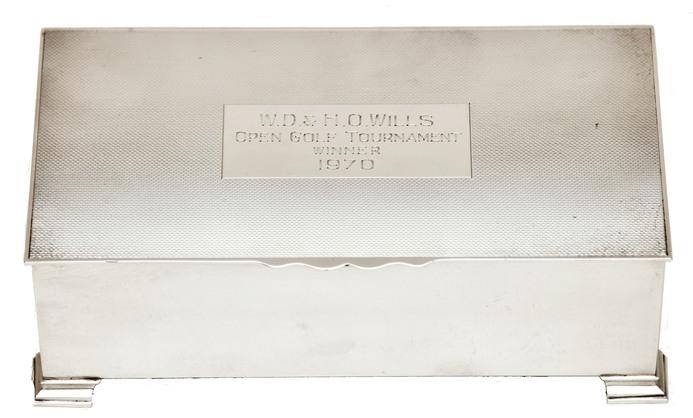 1970 W.D. & H.O. Wills Tournament Trophy won by Tony Jacklin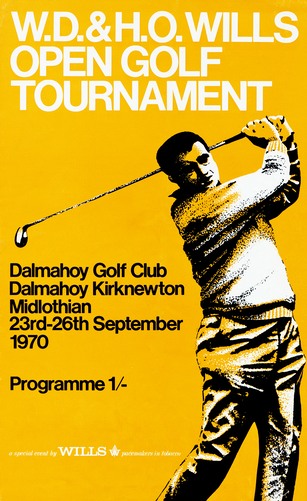 1970 W.D. & H.O. Wills Tournament Official Programme
1970 THE WILLS MASTERS
The Australia Golf Club, Sydney
Winner - Brian Barnes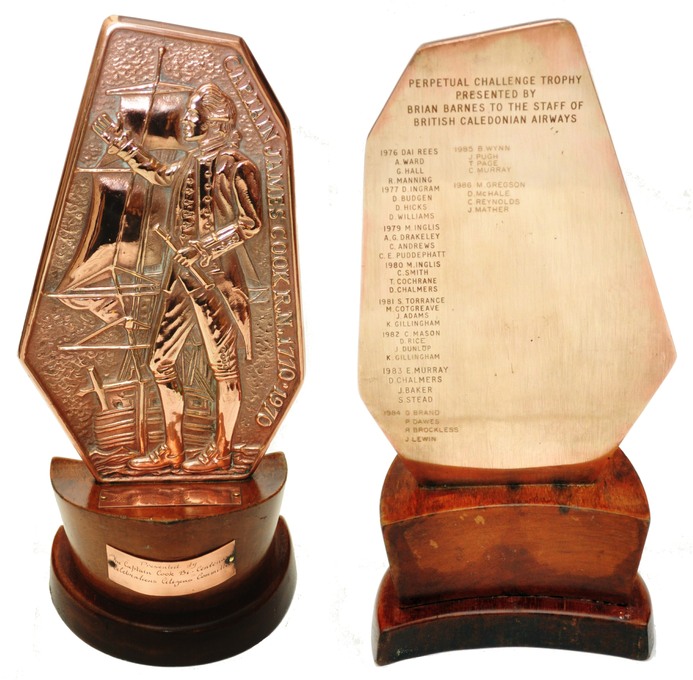 1970 Wills Masters Trophy won by Brian Barnes.
The trophy was then presented to British Caledonian Airways,
who used the trophy (subsequently named the
Perpetual Challenge Trophy) in their Annual Golf Day from 1976 to 1986.
Winners included Dai Rees, Sam Torrance, Carl Mason, Ewan Murray,
Gordon Brand and Malcolm Gregson.
1972 PGA SENIORS CHAMPIONSHIP
Winner - Ken Bousfield
1972 PGA Seniors Championship Trophy won by Ken Bousfield
1974 PRINGLE OF SCOTLAND SENIORS CHAMPIONSHIP
Lundin LInks
5 July 1974
Winner - Eric Lester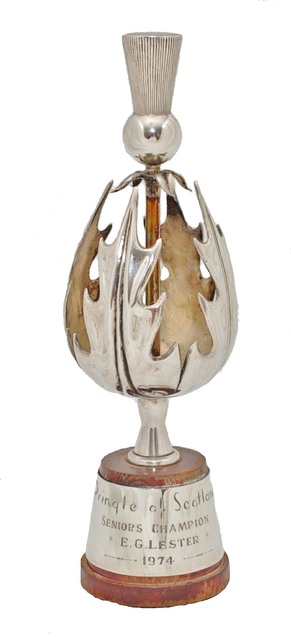 1974 Pringle of Scotland Seniors Championship Trophy won by Eric Lester
1974 Pringle of Scotland World Seniors Championship Trophy
won by Eric Lester
1974 Pringle of Scotland World Seniors Championship Official Programme
1974 SCANDINAVIAN ENTERPRISE OPEN
Bokskogens, Malmo
18 - 21 July 1974
Winner - Tony Jacklin
1974 Scandinavian Enterprises Open Trophy won by Tony Jacklin


Official Scoreboard - 1974 Scandanavian Enterprises Open
Scandinavian Enterprises Open - £30,000
Nowhere in Continental Europe has golf caught on with the masses in the
manner it has in Sweden. Much of this can be credited to their national sporting
hero, Sven Tumba, who turned professional golfer after a distinguished Olympic
career. But eventually the game's intrinsic challenge became its biggest selling
point.
However the enthusiasm of the Swedes knows no bounds and they could not
comprehend the terror that a camera-click holds for the professional golfer at
work. The task befell Tony Jacklin, like a tired but patient schoolmaster, to lecture
them throughout the four rounds on the Bokskogen course, near Malmo, about
showing consideration for the performers.
"After the shot, please! Don't click until after!" became his constant cry and it
provoked a reaction among the Swedish press with one newspaper calling him
"Prima Donna Jacklin". It was unfair, but if Jacklin pondered on the fairness of
every word written he would never sleep.
Jacklin had come to the Bokskogen course without a win all season in Europe
and best by an angered frustration about the way his career was progressing. He
felt the good golf was almost there. But then he had said the same thing before
the British Open and nothing had gone right at Royal Lytham.
He opened his Scandinavian challenge with a 70 and nobody will ever convince
him that it would not have been 69 if he had not encountered camera trouble
around the last green. He tried three times to play a wedge, but each time was
forced to step away as another shutter clicked. The ball finished 15 feet from the
hole and the camera chorus began again. There was no possibility of holing for a
birdie after that. Even so, he still led by a stroke over defending champion Bob
Charles with South African Hugh Baiocchi and American Danny Edwards at 72.
The next day the tournament all but finished. Or rather Jacklin moved himself so
far from the rest of his challengers in such abysmal conditions that only an Act of
God, the Third World war and two broken legs could have prevented him taking
the title. By the end of the day he had set a new course record of 65, opened up
a five-stroke lead on his nearest challenger, young Scot Sam Torrance, and was
considered by many of his rivals as having played the best round of golf of the
year in Europe. He broke the record on a day when the wind swirled through the
trees with such treachery that almost every hole presented a shot into a
crosswind. Most professionals were happy to settle for something around 75.
Those who know Jacklin and his moods could discern early that he was in the right
frame of mind from the manner in which he dealt with his first crisis. On the 200
yard 2nd hole he aimed left, hoping the crosswind would carry his ball back to the
green. But he over-commentated and the ball finished in the sand. He splashed
out beautifully and sank the putt. By the 9th hole, he was three under par, even
though still obliged at times to remonstrate with shutter-happy photographers.
In that second round Torrance put together a splendid inward 31, never facing
anything longer than a 15-footer. But he marred his score earlier by driving again
a tree on the 8th hole and taking a double-bogey 6. By the end of the day
Jacklin was at 135, Torrance at 140, Bob Charles at 141 and Peter Oosterhuis at
142.
The reason for Jacklin's transformation? He said simply that the putts had
dropped. He never really plays badly between tee and green, but the difference
for him between a good score and an ordinary performance rests with his
putting touch.
Over the last two rounds the rest of his rivals were playing for second place.
Jacklin's record shows that once he gets a lead he does not let go. And, as that
tournament proceeded, the only doubt remaining was whether he could equal
or beat the twelve-stroke winning margin record for the European Tour. Tony
opened his lead to ten strokes with a third-round 69 for 204.
No challenge developed in Sunday's final round. Torrance took an 8 at the 7th
hole and bowed out. Oosterhuis remained in low gear, muttering that perhaps
he had played too much, and Spaniard Jose Canizares indulged himself with
seven strokes on the last hole via a ditch, but still took second-prize money at
290.
Jacklin did not break the record. He finished with a 75 – 279, admitting that it
was difficult to play hard when instinct told you it did not matter. When a press
man told him he had missed the record by a stroke, he smiled: "I see, Jacklin fails
again. Even when you win – you can't win."
1976 NEW ZEALAND OPEN
1976 New Zealand Open runner's-up Medal won by Doug McLelland.
Tournament won by Simon Owen who finished on 284 strokes
1978 SPANISH OPEN
El Prat GC
19 - 22 April 1978
Winner - Brian Barnes
1978 Spanish Open Trophy won by Brian Barnes
Official Scoreboard - 1978 Spanish Open
1979 ITALIAN OPEN
GC Montinello
3 - 6 May1979
Winner - Brian Barnes
1979 Italian Open Trophy won by Brian Barnes
Official Scoreboard - 1979 Italian Open
1979 BRAUN GERMAN OPEN
Frankfurt GC
16 - 19 August 1979
Winner - Tony Jacklin
1979 Braun German Open Trophy won by Tony Jacklin
1979 Braun German Open winner's Medal won by Tony Jacklin
Official Scoreboard - 1979 Braun German Open
1981 BILLY BUTLIN JERSEY OPEN
La Moye
18 - 21 June 1981
Winner - Tony Jacklin
1981 Billy Butlin Jersey Open Trophy won by Tony Jacklin
Official Scoreboard - 1981 Billy Butlin Jersey Open
1983 NIGERIAN OPEN
Winner - Gordon J Brand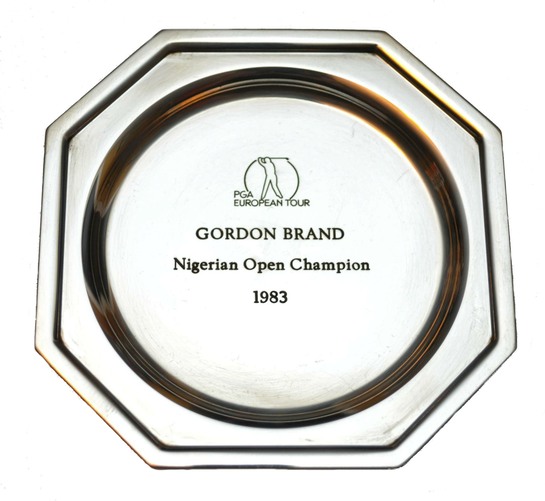 Silver Salver presented to Gordon J Brand by the European Tour
for winning the 1983 Nigerian Open
1986 IVORY COAST OPEN
Winner - Gordon J Brand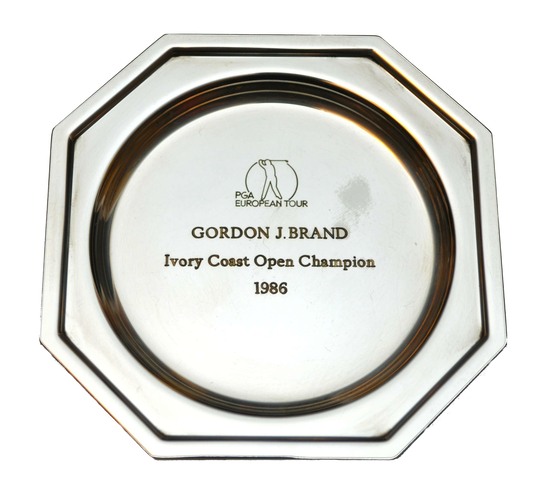 Silver Salver presented to Gordon J Brand by the European Tour
for winning the 1986 Ivory Coast Open
1986 NIGERIAN OPEN
Winner - Gordon J Brand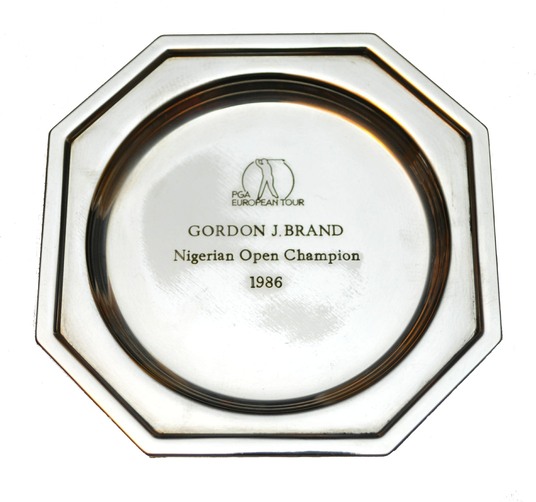 Silver Salver presented to Gordon J Brand by the European Tour
for winning the 1986 Nigerian Open
1990 SPACE COAST CLASSIC VANTAGE CLASSIC
Winner - Jack Fleck
1990 Space Coast Classic trophy won by Jack Fleck
The Senior Tour would have a sub-tournament played on the Friday and
Saturday played in conjunction with the regular scheduled Senior Tour
Event. This was labelled as "Super Senior". Mike Hill won the actual
Senior Tour event and Jack Fleck won the "Super Senior" event
1994 FIRST OF AMERICA CLASSIC
Winner - Tony Jacklin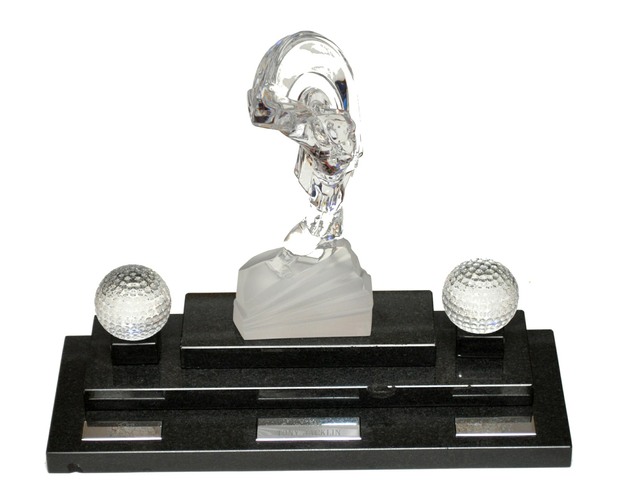 1994 First of America Trophy won by Tony Jacklin
1994 TOYOTA WORLD MATCH PLAY
Wentworth
13 - 16 October 1994
Runner-Up - Colin Montgomerie
1994 Toyota World Match Play Runner Up trophy
won by Colin Montgomerie
Official Scoreboard - 1994 Toyota World Match Play
1995 ALFRED DUNHILL CUP
St Andrews
13 - 16 October 1994
Winner - Scotland / Colin Montgomerie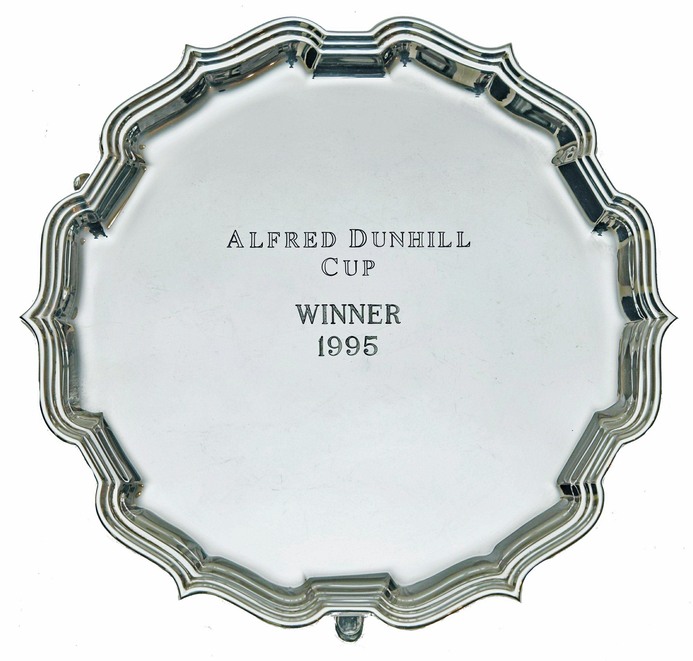 1995 Alfred Dunhill Cup trophy won by Colin Montgomerie