Date of Birth - 24 August 1953
Place of Birth - Largs, Scotland
Turned Pro - 1970
Website - wwwsamtorrance.com
European Tour Profile - Sam Torrance
Sam Torrance OBE was one of the leading players on the European Tour
from the mid 1970s to the late 1990s, with 21 Tour wins. Torrance was a
member of European Ryder Cup teams on eight occasions, from 1981 to
1995 consecutively; he was on Cup-winning teams in 1985, 1987, 1989,
and 1995. He was the winning non-playing captain of the European Ryder
Cup team in 2002. Torrance was honoured with the MBE (1996) and OBE
(2003), for his outstanding contributions to golf.
Torrance turned professional at age 16, and joined the European Tour at
17. He achieved his first professional win in 1972, and won the Sir Henry
Cotton Award as Rookie of the Year that season. He recorded his first
European Tour win in 1976. He won 21 times on the European Tour; only
fellow Scot Colin Montgomerie has accumulated more European Tour
titles without winning one of golf's four major championships. His best finish
on the European Tour Order of Merit was second, which he achieved in
1984 and 1995. In total he finished in the top ten on the list ten times. He
holds the record for the most career appearances on the European Tour,
with over 700 events played at the close of the 2008 season. During his
prime Torrance was known for long driving and accurate short iron play,
often played in a daring style.
Torrance was also an early pioneer of the broomhandle putter. After a
disappointing 1988 season on the greens, Torrance experimented with the
long putter that was already being used successfully in the U.S. He
debuted his version, which anchored on the chin rather than the midriff,
at the 1989 Jersey Open and subsequently finished in the top five. He has
used it relatively successfully ever since.
In 2003, upon turning 50, Torrance became eligible to play in senior
tournaments, and he picked up his first win on the European Seniors Tour in
2004. He finished first on the European Seniors Tour's Order of Merit in 2005,
2006 and 2009.
Torrance played for Europe in the Ryder Cup eight times, from 1981 to
1995 consecutively; the Cup is contested every two years. In 1985 he sank
the winning putt, which deprived the Americans of the trophy for the first
time in 28 years. He also was a member of Cup-winning teams in 1987
(first-ever win for Europe on American soil), 1989, and 1995. In 2002, he
was the non-playing captain on the European team which won the 2002
Cup at The Belfry. This made him the second European captain to sink the
winning putt and captain a winning team at separate Ryder Cups, after
Seve Ballesteros in 1987 (as a player) and 1997 (as captain).
ACHIEVEMENTS
Ryder Cup 1981, 1983, 1985, 1987, 1989, 1991, 1993, 1995
Alfred Dunhill Cup 985, 1986, 1987, 1989, 1990, 1991, 1993, 1995, 1999
World Cup 1976, 1978, 1982, 1984, 1985, 1987, 1989, 1990, 1991, 1993, 1995
Four Tours World Championship 1985, 1991
Hennessy Cognac Cup 976, 1978, 1980, 1982, 1984
Double Diamond 1973, 1976, 1977
UBS Cup 2001, 2002, 2003
1972 Radici Open (Italy)
1972 Under-25 Match Play Championship
1975 Zambia Open
1976 Piccadilly Medal
1976 Martini International
1978 Scottish Professional Championship
1979 Colombian Open
1980 Australian PGA Championship
1980 Scottish Professional Championship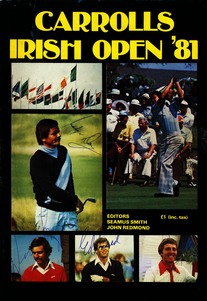 1981 Carroll's Irish Open
1982 Benson & Hedges Spanish Open
1982 Portuguese Open
1983 Scandinavian Enterprise Open
1983 Portuguese Open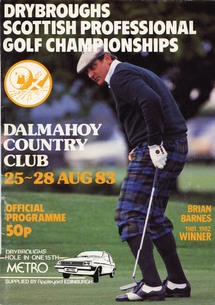 1983 Scottish PGA Championship
1984 Tunisian Open
1984 Benson & Hedges International Open
1984 Sanyo Open
1985 Johnnie Walker Monte Carlo Open
1985 Scottish Professional Championship
1987 Lancia Italian Open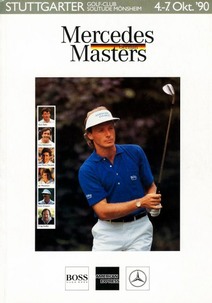 1990 Mercedes German Masters
1991 Jersey European Airways Open
1991 Scottish Professional Championship
1993 Kronenbourg Open
1993 Heineken Open
1993 Honda Open
1993 Scottish Professional Championship
1995 Italian Open
1995 Murphy's Irish Open
1995 Collingtree British Masters
1998 Peugeot Open de France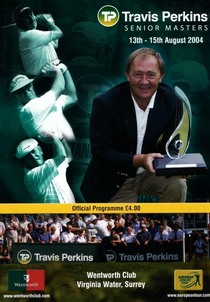 2004 Travis Perkins Senior Masters
2005 Irvine Whitlock Seniors Classic,
2005 De Vere PGA Seniors Championship
2005 Bendinat London Seniors Masters
2006 Sharp Italian Seniors Open
2006 AIB Irish Seniors Open
2006 PGA Seniors Championship
2006 Scottish Seniors Open
2006 Hassan II Golf Trophy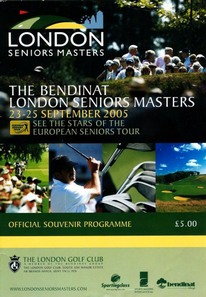 2007 Bendinat London Seniors Masters
2008 OKI Castellón Open España - Senior Tour Championship
2009 DGM Barbados Open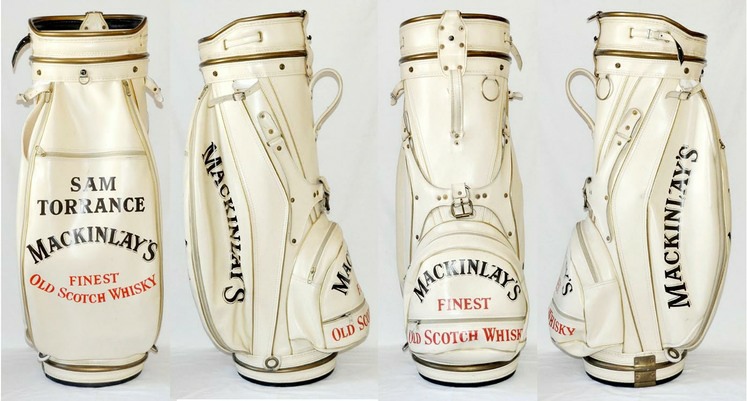 Tour bag used by Sam Torrance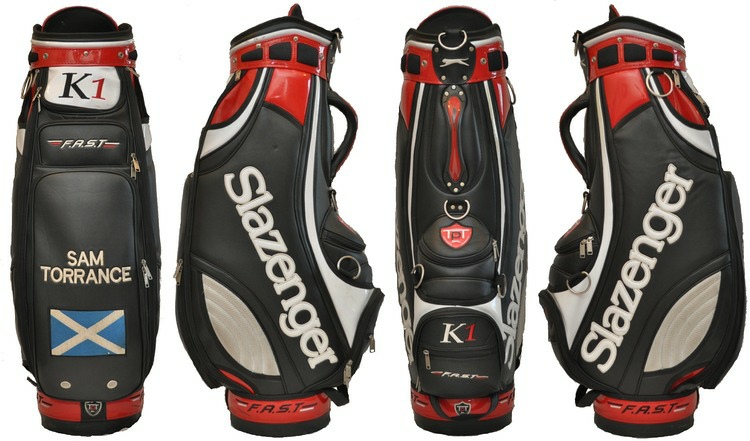 Tour bag used by Sam Torrance
Slazenger K1 Fast driver used by Sam Torrance
TaylorMade R7 5 wood used by Sam Torrance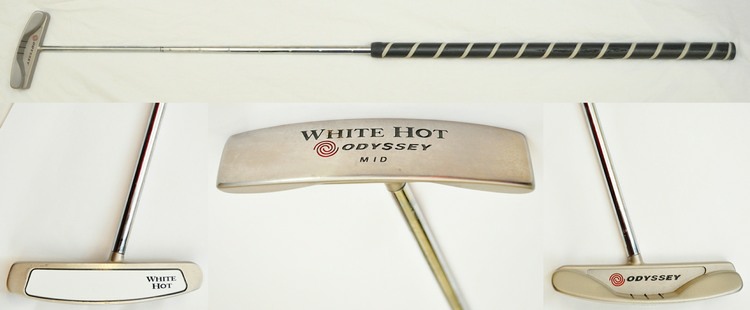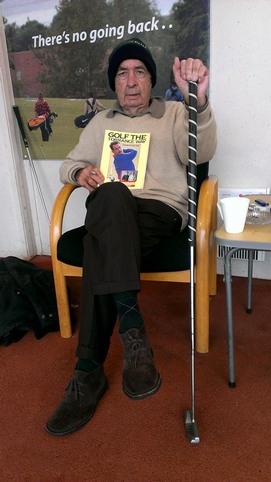 Odyssey White Hot Putter Putter used by Sam Torrance
Donated by Sam's Dad, Bob Torrnace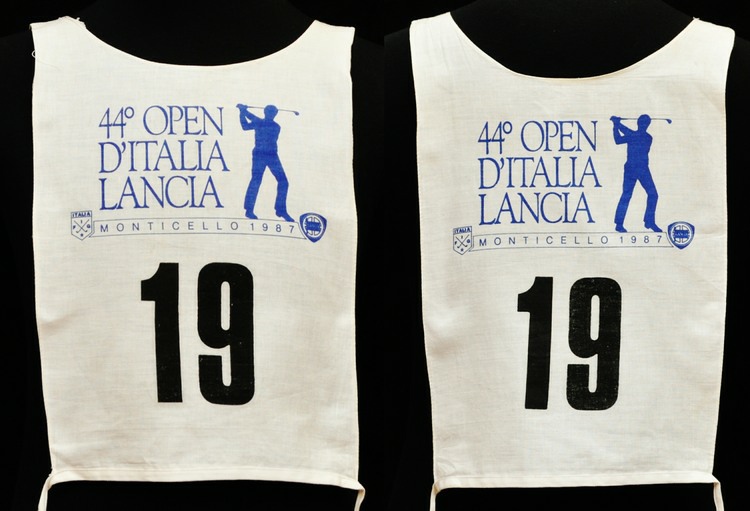 Sam Torrance's caddie's bib from the 1987 Italian Open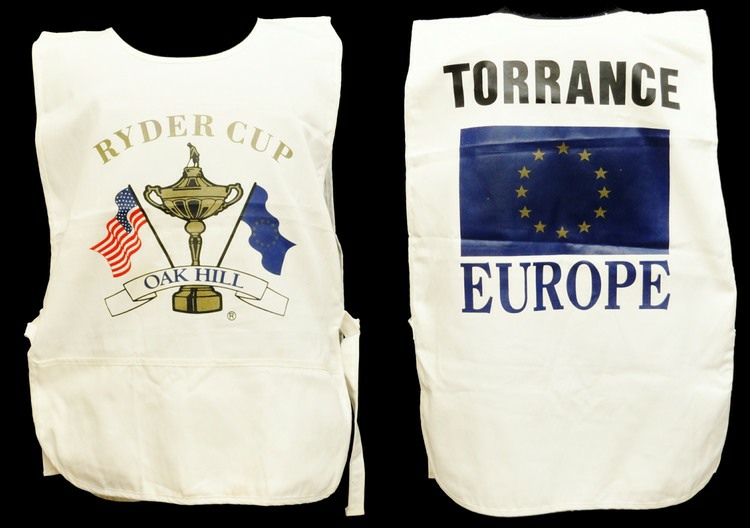 Sam Torrance's caddie's bib from the 1995 Ryder Cup
Sam Torrance's caddie's bib from the 1995 Dunhill Cup
Personal Rain top worn by Sam Torrance
Visor worn and signed by Sam Torrance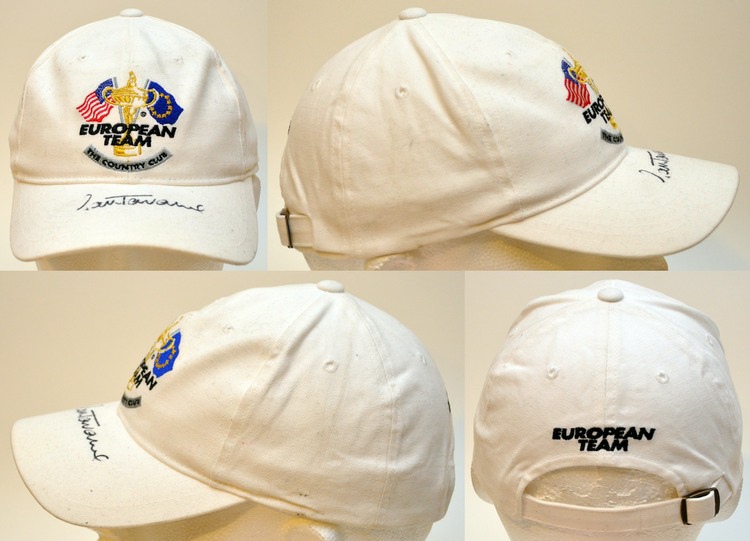 1999 European Ryder Cup Team issue hat signed by Sam Torrance
Glove worn and signed by Sam Torrance
Ball used and signed by Sam Torrance

Personal logo golf ball of Sam Torrance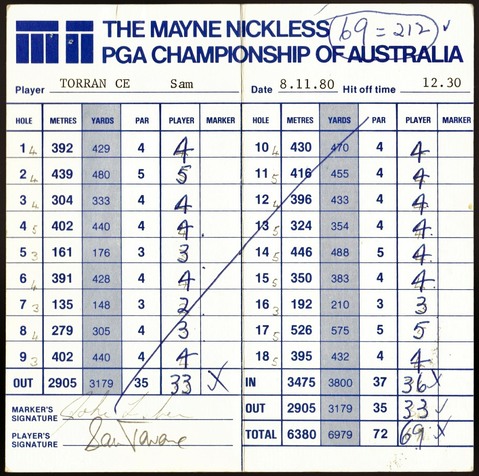 This is the third round scorecard of Sam Torrance when he won the 1980
The Mayne Nickless PGA Championship of Australia. Marker unknown.
Australian PGA win still No.1 for Torrance
Sam Torrance rattles off the final holes of his historic 1980 Australian PGA
Championship triumph like he is checking items off a shopping list.
I remember quite a lot about it, Torrance said of the 1980 championship.
In a career littered with highlights, including his crafty captaining of Europe
to victory in the 2002 Ryder Cup, Torrance still rates that 1980 Australian
PGA win as the pinnacle.
I still regard that as my best individual win, no question, he said.
Great golf course, (Seve) Ballesteros and (Greg) Norman in their heyday.
It was good.

Sam Torrance's 1st Round scorecard from the 1981 Bob Hope British Classic
Marked and signed by Eamon Darcy and Ian Matthews
Sam Torrance's 3rd Round scorecard from the 1981 Bob Hope British Classic
Marked and signed by Jose-Maria Canizares and Ken Jaffa
Sam Torrance's 3rd Round scorecard from the 1981 Bob Hope British Classic
Marked and signed by Jose-Maria Canizares and Ken Jaffa
Original Oil Painting of Sam Torrance by Joe Austen
Website - www.joeausten.com
Original caricature of Sam Torrance by Malky McCormick
Official Programme from Shell's Wonderful World of Golf match between
Sam Torrance and Curtis Strange at Carnegie Bay 29 June 2001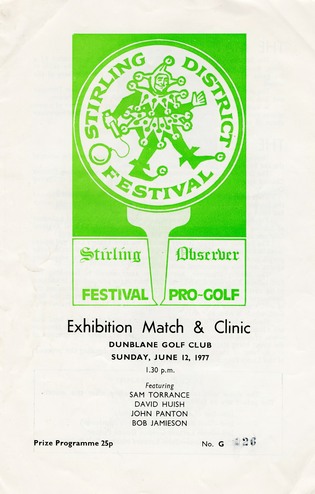 Official Programme from Exhibition Match between Sam Torrance,
David Huish, John Panton and Bob Jamieson at Dunblane Golf Club 1977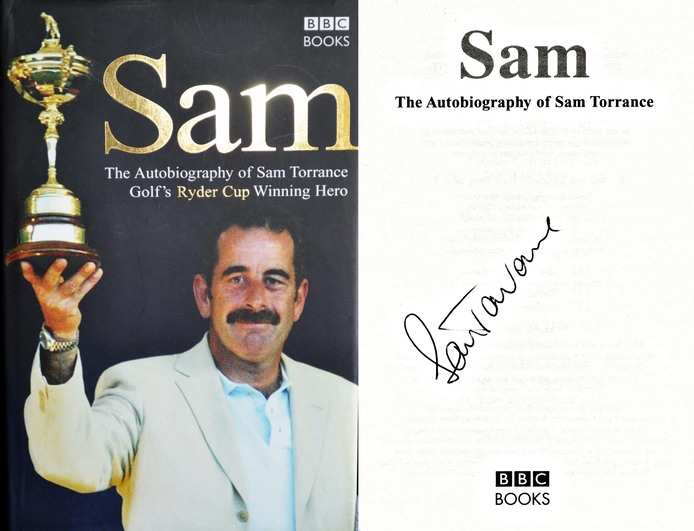 'Sam - The Autobiography' written by Sam Torrance (signed)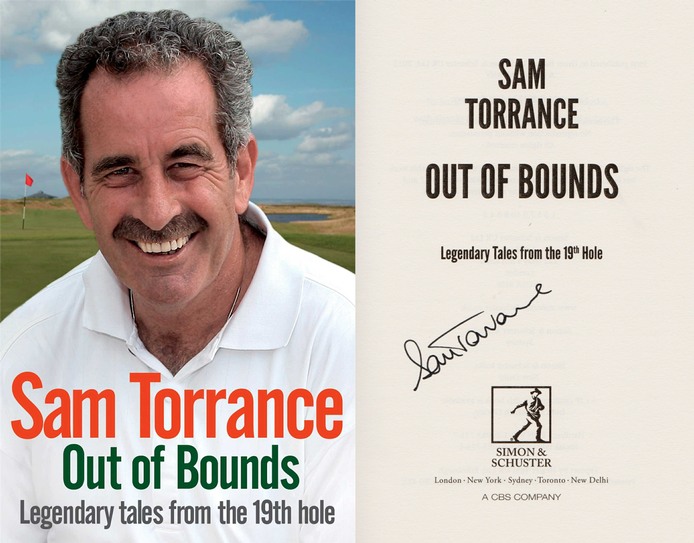 'Out Of Bounds' written by Sam Torrance (signed)
'An Enduring Passion - My Ryder Cup Years' written by Sam Torrance
'Golf The Torrance Way' written by Bob Torrance (signed)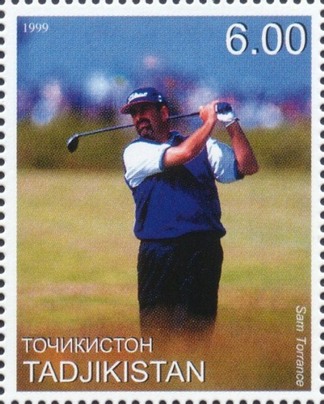 Official Postage Stamp from Tadjikstan featuring Sam Torrance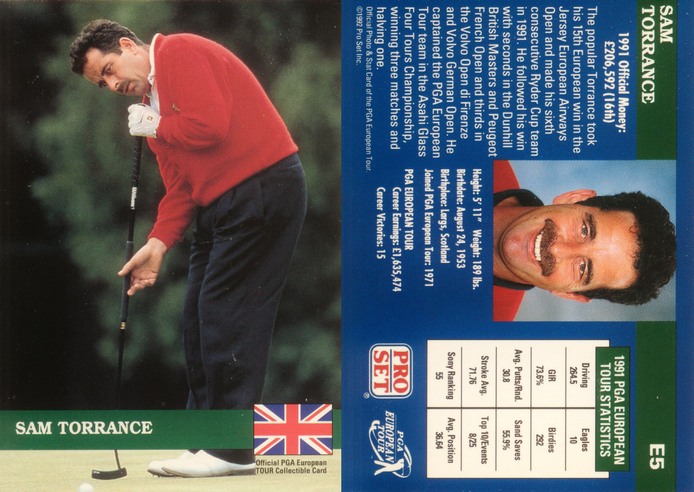 Sam Torrance Pro Set Card