AUTOGRAPH BOOK
containing signatures of many leading players from the 1940's and 50's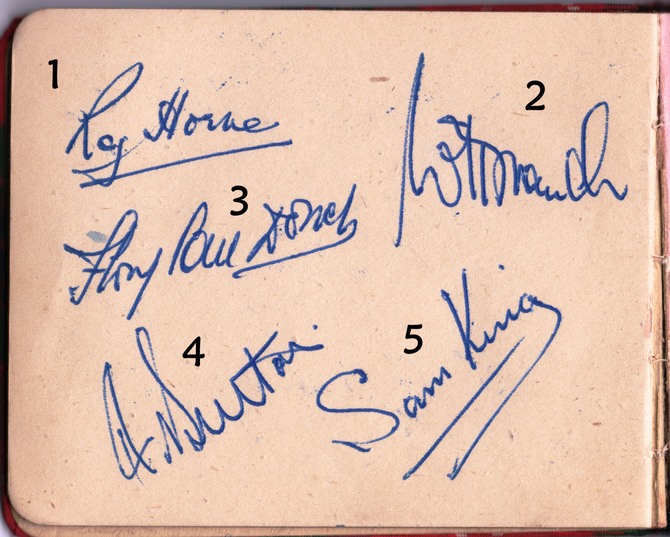 (1) Reg Horne (2) William Branch (3) Flory Van Donck
(4) Richard Burton (5) Sam King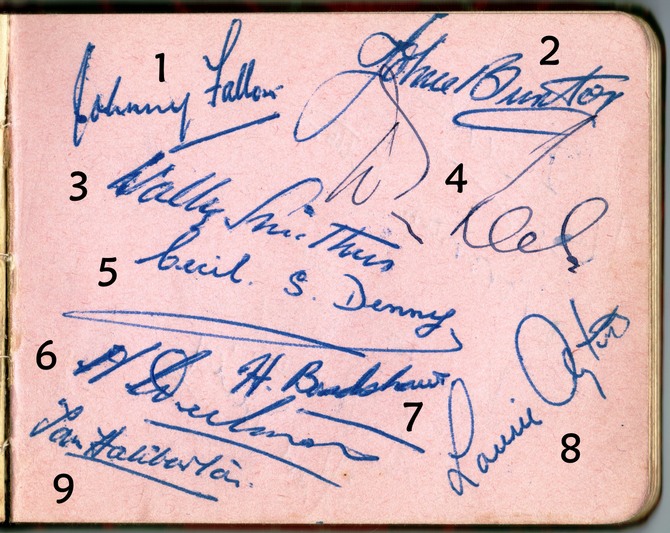 (1) Johnny Fallon (2) John Burton (3) Wally Smithers
(4) Dai Rees (5) Cecil Denny (6) Harry Weetman
(7) Harry Bradshaw (8) Laurie Ayton (9) Tom Haliburton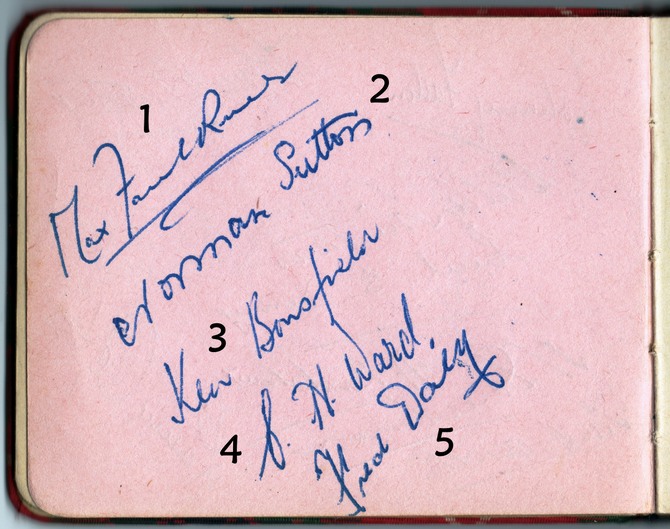 (1) Max Faulkner (2) Norman Sutton (3) Ken Bousfield
(4) Charlie Ward (5) Fred Daly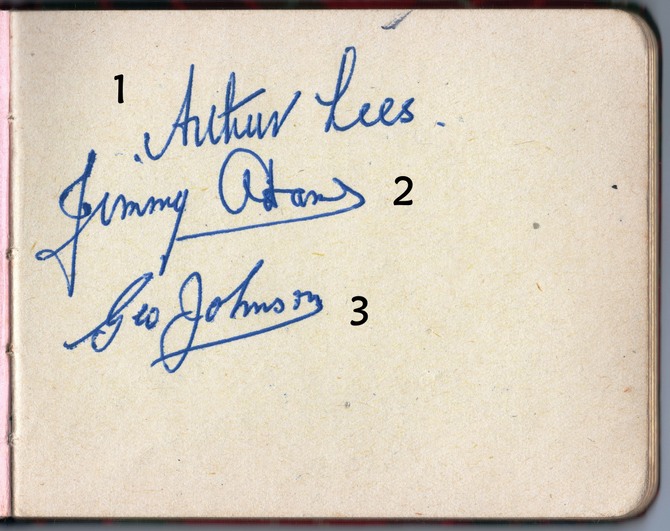 (1) Arthur Lees (2) Jimmy Adams (3) George Johnson
(1) Harry Weetman (2) Fred Daly (3) Unknown
(1) Unknown (2) Reg Whitcombe
Buddy ALLIN
'Center-line' written by Buddy ALLIN - signed
Peter BAKER
Official 2008 Open Players Edition Strokesaver signed by Peter Baker
Ken BOUSFIELD
Hip flask owned by Ken Bousfield bearing his initials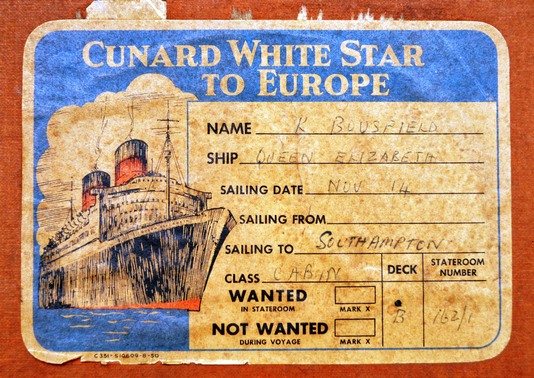 Travel Trunk owned and used by Ken Bousfield to travel to The Ryder Cup
in America during the 1950's
Key Rings made for Ken Bousfield when he was Professional at
Coonbe Hill Golf Club
Pocket torch given to Ken Bousfield by Bing Crosby Christmas 1973
Photograph signed by Ken Bousfield and Dai Rees
Bob DUVAL

Official nameplate for Contestant Car Park signed by Bob Duval
Unkown Year and Tournament
Dave EICHELBERGER
Dave EICHELBERGER's Personal 2002 PGA Tour Guide
Oliver FISHER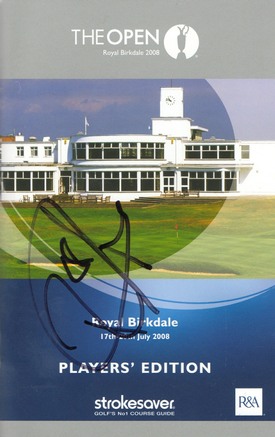 Official 2008 Open Players Edition Strokesaver signed by Oliver Fisher
Joe INMAN

Official nameplate for Contestant Car Park signed by Joe Inman
Unkown Year and Tournament
Mark JAMES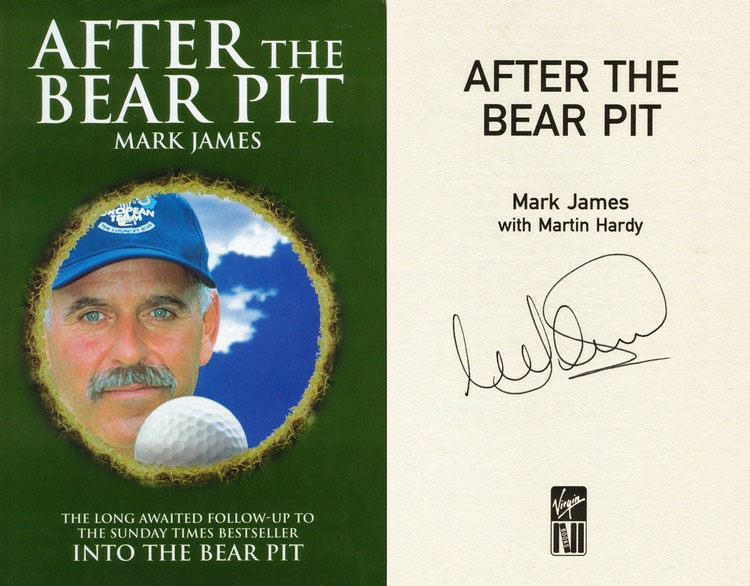 'After The Bear Pit' written by Mark James - signed
Miguel-Angel JIMINEZ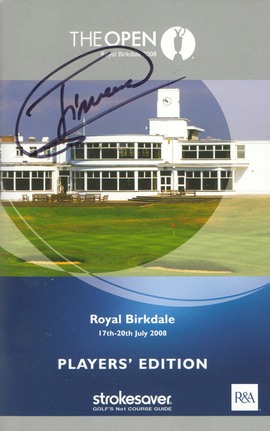 Official 2008 Open Players Edition Strokesaver signed by Miguel-Angel Jiminez
Matt KUCHAR
Official 2008 Open Players Edition Strokesaver signed by Matt Kuchar
Doug La BELLE III
Official 2008 Open Players Edition Strokesaver signed by Doug La Belle III
Gary McCORD
Gary McCORD Official Bobblehead
Frank NOBILO
Original caricature of Frank Nobilo sketched by Australian Artist Tony Rafty
Drawn and signed by both men at the 1995 Heineken Australian Open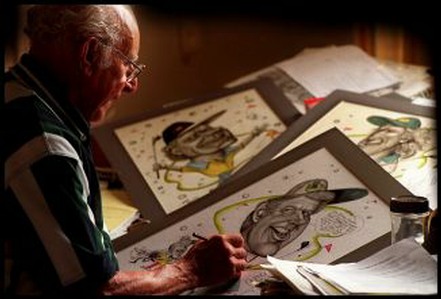 Tony Rafty was born in Paddington, Sydney on the 12th October, 1915.
Tony got his start drawing caricatures while he caddied in his native
Australia as a teenager, trying to help his family through the Depression.
He can rightfully boast that he is the only artist in the world to have
recorded the Olympians and sketches of the Olympic Games from 1948
(London) to 1996 (Atlanta).
What is even more noteworthy is the fact that 95% of his drawings also
have their subject's autographs, making his collection unique and
invaluable.
Tony specialises in caricatures of media types, entertainers, politicians,
golfers, boxers, and cricketers, and has been described by industry experts
and practitioners as "without peer", in terms of the number of drawings
and caricatures autographed, ever assembled in one artist's lifetime.
Tony has also met and drawn many international political figures including
U.S Presidents, Harold McMillan and Mrs Indira Ghandi.
"The Great Entertainers" is another work of art with the most famous piece
being the signed caricature of The Beatles when they visited Australia in
1964. John, Paul, George and Ringo all signed the drawing and it is said to
be the only one of its kind in the world. The rest of the collection includes
over 150 signed drawings of such luminaries as Louis Armstrong, Sammy
Davis Jnr., Bob Hope, Frank Sinatra, Nat King Cole, Betty Davis, Alfred
Hitchcock, Tony Bennett, Danny Kaye, Paul Robeson and even Mr. Lips
himself, Mick Jagger from the Rolling Stones.
Not surprisingly, Tony's work has been showcased at art exhibitions around
the World.
Tony's artistic style flows from life itself, with quick first impressions
committed to paper in bold outlines and later filled in with detail. "I like to
capture a personality when they are talking and moving about. A person's
face doesn't come alive until they are mobile, talking or laughing. I like
to do two or three drawings at different angles then leave it until later
when I can get a photograph to remember the small details that I may
have forgotten".
"Just to be near them and talk to them in the mornings is great", he says.
"I remember little conversations I had with them (the subjects), and that is
what's so special to me".
Craig PARRY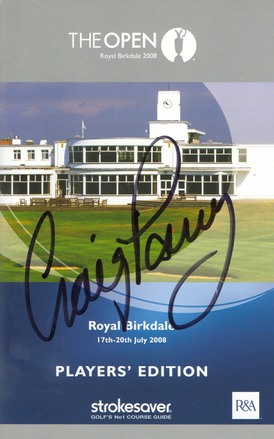 Official 2008 Open Players Edition Strokesaver signed by Craig Parry
Craig PERKS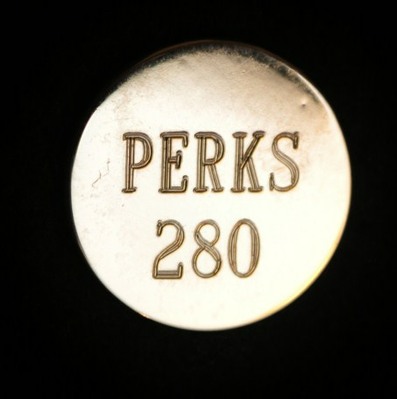 Silver ball marker made to commemorate Craig Perks victory
at the 2002 Players Championship
Dana QUIGLEY

Personal Te-Amo cigar made for Dana Quigley to commemorate his
Victory at the 1997 Northville Classic
Dai REES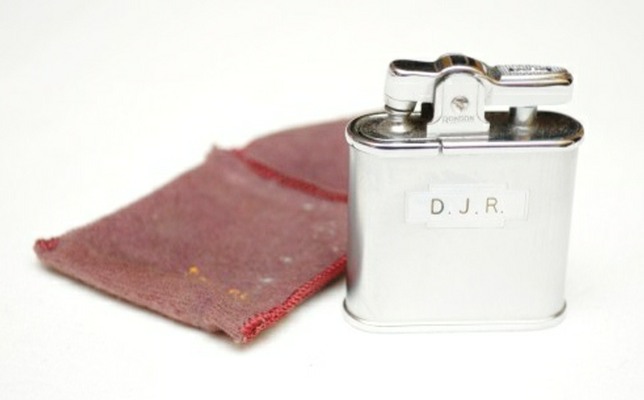 Dai Rees's personal Cigarette Lighter engraved with his initials DJR
(David James Rees)
'Dai Rees On Golf' written by Dai Rees - signed
Andres ROMERO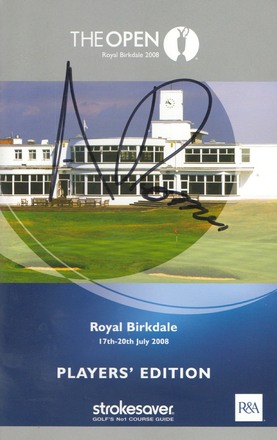 Official 2008 Open Players Edition Strokesaver signed by Andres Romero
Tom SHAW
Official nameplate for Contestant Car Park signed by Tom Shaw
Unkown Year and Tournament
Charlie SIFFORD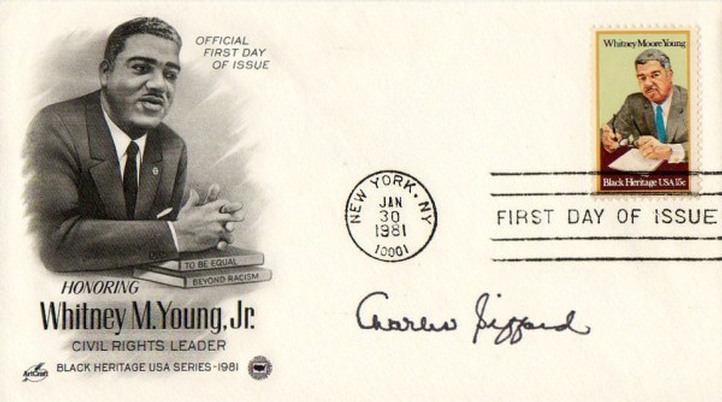 US Postal First day cover signed by Charlie Sifford
Jay SIGEL

Official nameplate for Contestant Car Park signed by Jay Sigel
Unkown Year and Tournament
J C SNEAD
Official nameplate for Contestant Car Park signed by J C Snead
Unkown Year and Tournament
Cyril TOLLEY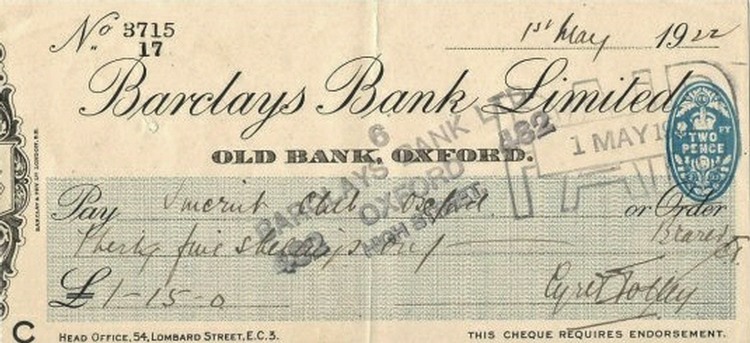 Personal Cheque signed by Cyril Tolley
Best known as the golfer who took Bobby Jones to the 19th hole in the
British Amateur at St. Andrews during Jones' quest for the Grand Slam,
Tolley was in fact a fine golfer who won the British Amateur in 1920 and
1929. A larger than life character, a decorated war hero, he had a swash
buckling style both on and off the Golf course
Camilo VILLEGAS
Official 2008 Open Players Edition Strokesaver signed by Camilo Villegas
Lee WESTWOOD
Personal invitation given to Lee Westwood for the
Johnnie Walker Classic Gala Dinner 2003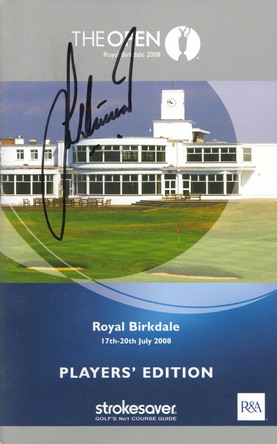 Official 2008 Open Players Edition Strokesaver signed by Lee Westwood