Pete COLEMAN
Tour Caddie
Official 2008 Open Players Edition Strokesaver signed by Pete Coleman
Peter DOBEREINER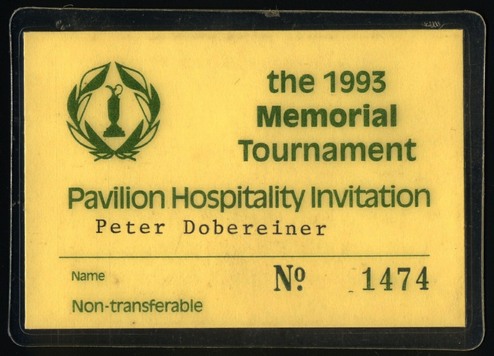 1993 Memorial Tournament Hospitality badge issued to
Golf Journalist Peter Dobereiner
Butch HARMON
Set of Four Instructional Videos signed by Butch Harmon
Bob KURTZ
Guinness Book of World Records holder for
most golf holes played in a week
Most Golf Holes Played in A Week
Pastor Bob Kurtz sets world record
June 2011
HARTSELLE, AL, USA -- Pastor Bob Kurtz, aka "Golf's Iron Man", a 70-year-old
Episcopalian vicar, completed 1,850 holes of golf in a seven-day period at
Quail Creek Golf Resort with 7,591 strokes for an average of 74.55 — only
2.55 strokes over par - setting the new world record for Most Golf Holes
Played in a Week.
The previous Guinness world record for the Most golf holes played in seven
Days (cart) was set by Thomas Bucci (USA), who completed 1,801 golf
holes in seven days at the Albany Country Club, Voorheesville, New York,
USA.
"I was a little disappointed in my scores," Kurtz said. "I kept thinking that I
wasgoing to have one monster round. On one, I got off to a good start
with several birdies on the front nine but finished the back nine with a 40."
He did it with the help of nearly 100 volunteers, teeing up balls, tracking
Scores and running the operation.
"He did it through spells of dehydration, sore hands, sore feet, blood
blisters,record-setting heat and nightly IV drips.
He also did it with an average score of 74.55 per 18 holes, shooting better
Than his age six times."
"To put this in perspective, the previous three people who set this record
were 44,34 and 28," Mike Janela, a representative of Guinness World
Records, said. "So that makes this record even more special."
The record-setting and mind-numbing performance also raised money to
helpprovide relief to victims of the recent tornadoes in the region."
The actual Driver he used in his successful World Record attempt.
Bob's Official Website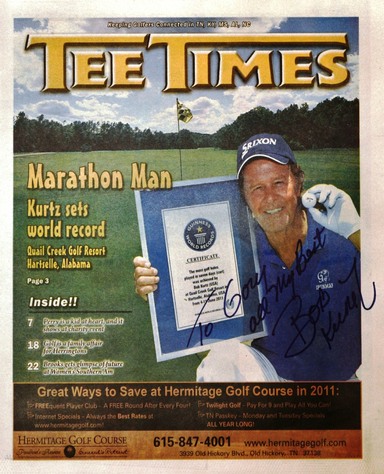 Tee Times newspaper signed by Bob Kurtz featuring his World Record
JEFF 'Squeeky' MEDLIN
Jeff "Squeeky" Medlin, who caddied for Nick Price. "Squeeky" passed away
in 1998, but as he battled Leukaemia before passing on, many of the
Professional Golfers and their caddies showed their support for "Squeeky"
by wearing ribbons with his nickname and a Leukaemia pin attached. This
particular ribbon and pin was worn by the golfers and caddies at the 1997
Masters
Leroy NEIMAN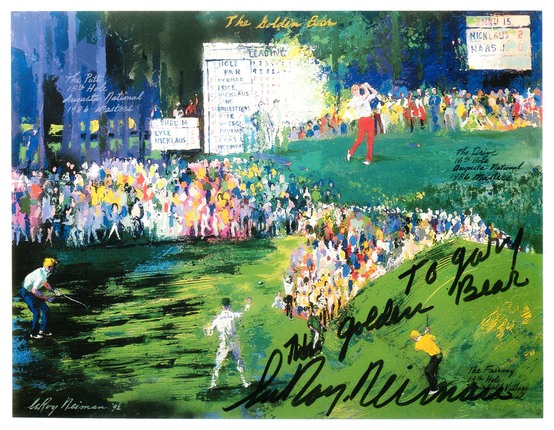 'The Golden Bear' card signed by Artist Leroy Neiman
John PARAMOR
European Tour Chief Referee
John Paramor's personal Rules of Golf used during 2007 (signed)
Harvey PENICK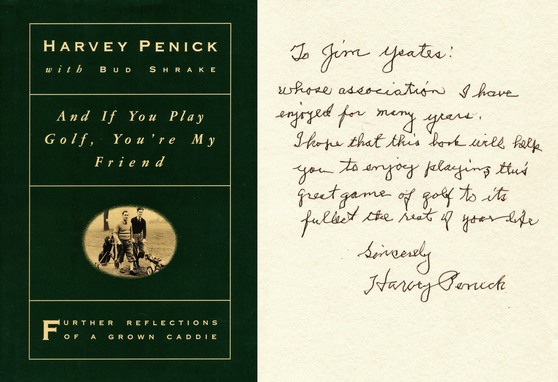 'And If You Play Golf, You're My Friend' Book
personally signed and inscribed by Harvey Penick
Karsten SOLHEIM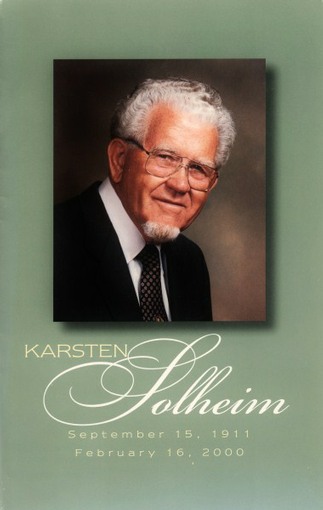 Official Memorial programme from funeral service
of Karsten Solheim 22 February 2000
GOLFCROSS
Original GolfCross ball
GolfCross is a variant of golf developed in New Zealand by Burton Silver.
It is similar to golf, except that it uses an oval ball and holes are replaced
by suspended goal nets. In addition, the green is replaced by a "yard",
and a player whose ball lies in the yard has the right to turn the goal net
so as to face them.
According to Silver, the oval ball is designed so as to give the player more
control over where the ball travels. Burton Silver explains:
The round ball is exactly right for golf which requires it to be hit along
the ground as well as through the air. But if a game has no need to for
the ball to roll towards a target, the oval shape - which is easier to
control - becomes an interesting alternative.
Because the oval ball spins on two axes, it is almost impossible to hook or
slice it. However, controlled hooks and slices are easily achieved by
angling the ball on the specially designed tee adaptor. Back-spinning
the ball and running it on is also achievable by the way in which the ball
is set up on the tee.
According to NZ player Greg Turner, GolfCross is a more strategic and
tactical game than regular golf, especially in match play, and because
players are shooting for goal it tends to be more dramatic and exciting
to play and watch.
GolfCross can bring back many advantages to normal golf. The mindset
that the ball will hardly ever slice or hook can be bought back to golf
and used effectively.
There are GolfCross courses in Germany, Argentina, England, Ireland,
Scotland and New Zealand. It is still unclear how widely GolfCross is
played. Recent interest has centered on its ecological advantages.
Because it doesn't use putting greens, agricultural chemicals can be
done away with, and because the ball is easy for any player to back
spin, fairways don't require irrigating to keep them soft in order to
reduce run-on.
Official Website www.golfcross.com
NIKE BLACK LIMITED EDITION GOLF BALL
Four PGA Tour golfers, all under contract to Nike, agreed to play a black
golf ball on the par-3, 162-yard 16th hole at the TPC of Scottsdale, during
the 2005 FBR Open in Arizona, to call attention to the new Nike Black
One ball, which isn't totally black like the promotional ball.
None of the four, Stewart Cink, Justin Leonard, K.J. Choi or Rory Sabbatini,
came close to a hole-in-one, but they got the effect Nike wanted with
the promotion.
The hole is similar to an amphitheater, with more than 7,000 mostly rowdy
spectators watching. The combination of the odd black ball, the fans
and the TV audience had phones ringing at the club during the
tournament and at Nike headquarters