Desi ARNAZ
Thunderbird Country Club caddy fee receipt signed by Desi Arnaz
Lucille BALL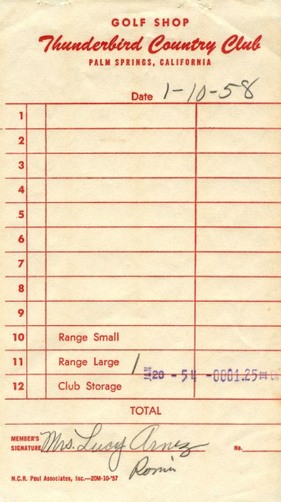 Thunderbird Country Club range receipt signed by Lucy Arnaz (Lucille Ball)
Sean CONNERY
Los Angeles Country Club range receipt signed by Sean Connery
Alice COOPER
Putter Cover presented to Alice Cooper by Sony Music, Queensland 1994
Phyllis DILLER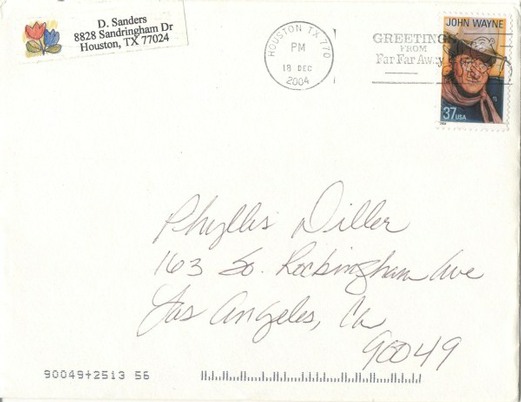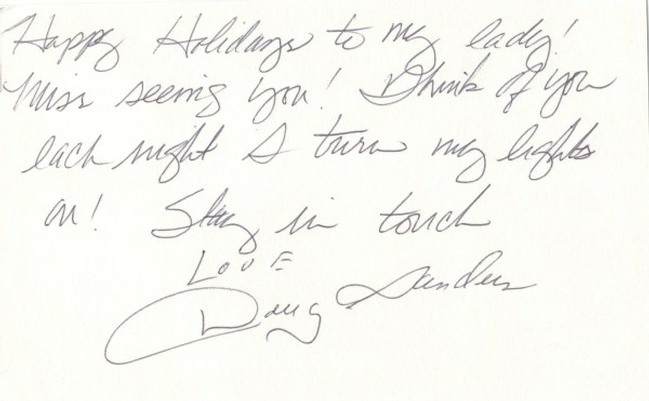 Christmas Card send to Phyllis Diller by Doug Sanders
President Dwight D EISENHOWER

Personal match cover given by President Dwight D. Eisenhower
to friends during his eight-year presidency
Bob HOPE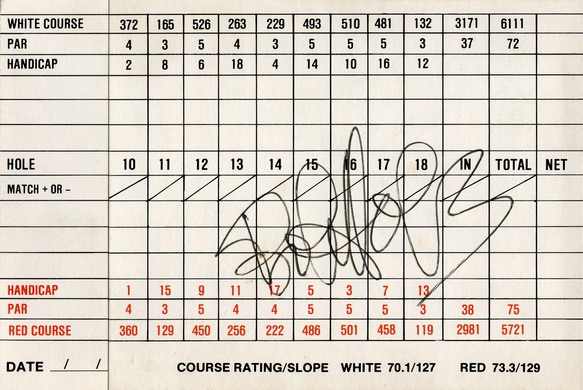 Golf Scorecard signed by Bob Hope
Bob Hope commemorative golf mug
Samuel L JACKSON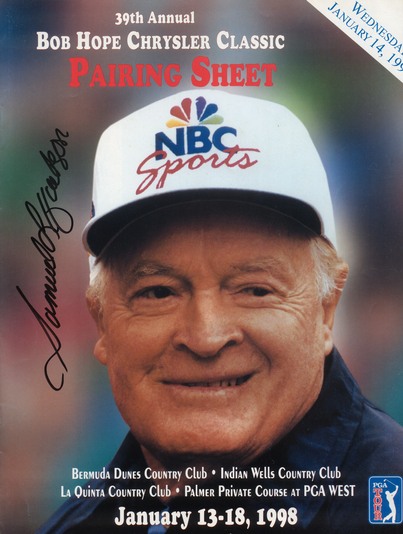 Official 1998 Bob Hope Chrysler Classic pairing sheet
signed by Samuel L Jackson
Dean MARTIN
Los Angeles Country Club range receipt signed by Dean Martin
Leslie NIELSEN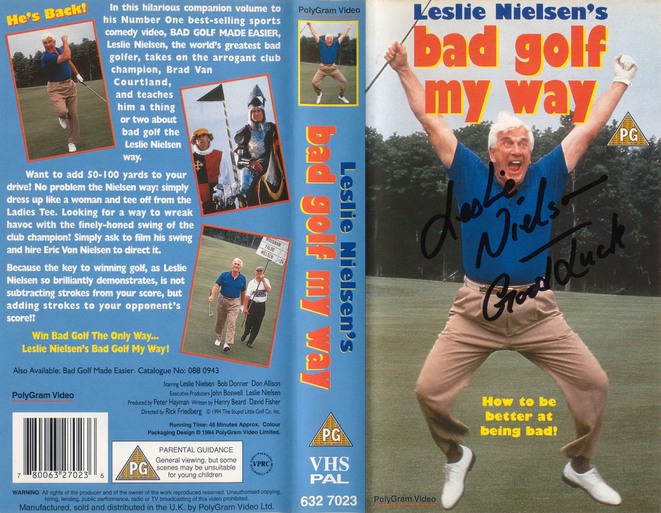 'Bad Golf My Way' Video cover signed by Leslie Nielsen
Dan QUAYLE
Personal tees and ball marker made for US Vice-President Dan Quayle
Jim REEVES
Champions Golf Club receipt signed by Jim Reeves
Commander Alan SHEPHARD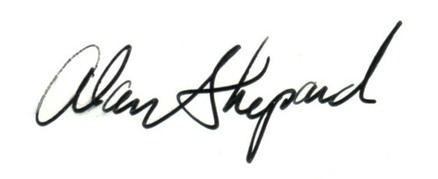 1989 Circle K LPGA Tucson Open Pro-am Pairing Sheet
signed by Commander Alan Shepard
(also signed by Amy Benz, Pat Bradley, Mei-Chi Cheng, Janet Coles, Jane
Crafter, Beth Daniel, Heather Farr, Juli Inkster, Chris Johnson, Nancy Lopez,
Cathy Morse, Sandra Plamer, Judy Rosenthal, Baseball Players Joe
Garagiola and Ray Knight and American Football Player Fred 'The
Hammer' Williamson)
On May 5, 1961, Alan Shepard piloted the Freedom 7 mission and became
the second person, and the first American, to travel into space.
As the oldest astronaut in the program at age 47, Shepard made his
second space flight as commander of Apollo 14 from January 31 –
February 9, 1971, America's third successful lunar landing mission. Shepard
piloted the Lunar Module Antares to the most accurate landing of the
entire Apollo program. This was the first mission to successfully broadcast
color television pictures from the surface of the Moon, using a vidicon
tube camera. (The color camera on Apollo 12 provided a few brief
moments of color telecasting before it was inadvertently pointed at the
Sun, ending its usefulness.) While on the Moon, Shepard used a Wilson six-
iron head attached to a lunar sample scoop handle to drive golf balls.
Despite thick gloves and a stiff spacesuit which forced him to swing the
club with one hand, Shepard struck two golf balls; driving the second, as
he jokingly put it, "miles and miles and miles."
James STEWART
Bel-Air Country Club green fee and caddie receipt signed by James Stewart
William WHITELAW
Silloth-on-Solway Scorecard signed by Viscount Willie Whitelaw
TELEVISION AND FILM PROPS
MONARCH OF THE GLEN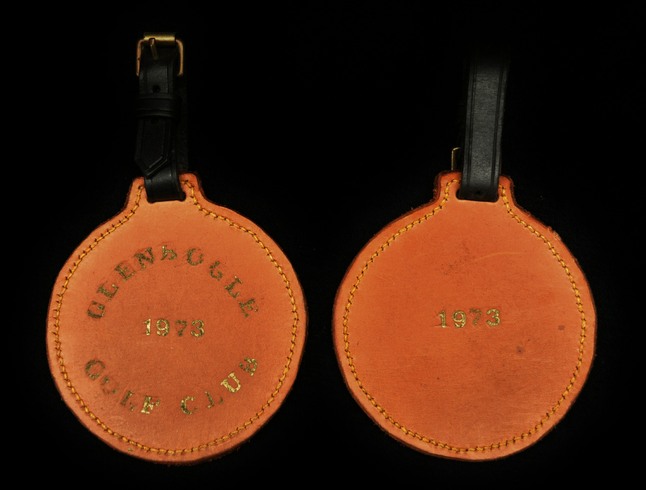 Two Bag Tags bearing the name of the fictional village Glenbogle used
during the filming of the BBC Programme Monarch of The Glen
SIGNED GOLF MOVIE STILLS
BAT 21
Signed by Gene Hackman
HAPPY GILMORE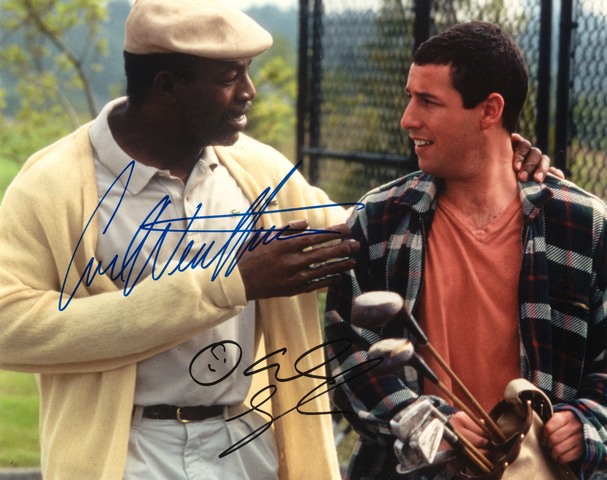 Signed by Adam Sandler and Carl Weathers
M.A.S.H.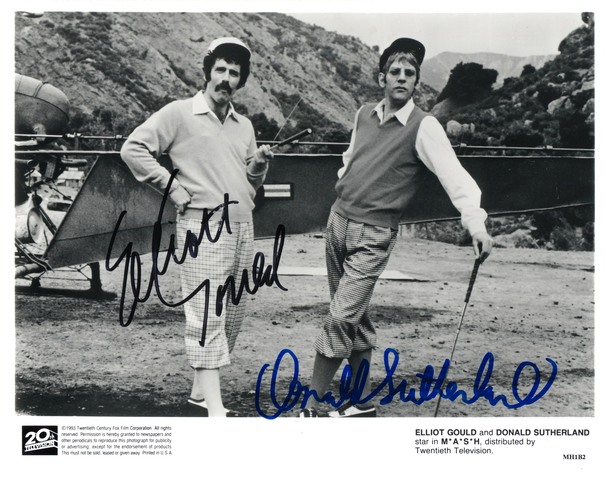 Signed by Elliott Gould and Donald Sutherland
TIN CUP
Signed by Kevin Costner and Rene Russo
Signed by Don Johnson
CELEBRITY MULTI SIGNATURES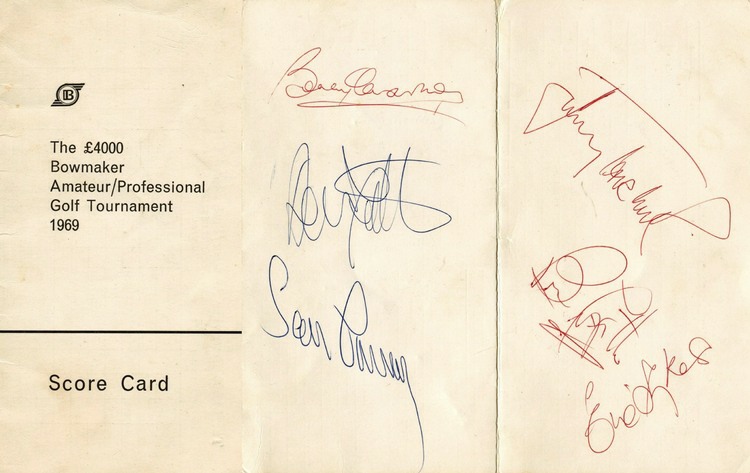 1969 Bowmaker Golf Tournament Score Card signed by Bobby Charlton,
Sean Connery, Adam Faith, Bruce Forsyth, Eric Sykes and Jimmy Tarbuck
Official Canada Post Office First Day cover signed by comedians Ronnie
Corbett, Bruce Forsyth and Jimmy Tarbuck