Date of Birth - 2 January 1989
Place of Birth - Gorleston, England
Turned Pro - 2011
Website - www.blog.jamesbyrnegolf.com
James was born in Gorleston, England. At the tender age of 3 weeks, he
relocated with his parents to their home in Banchory, Scotland where he
has lived ever since.
From an early age James has had an interest in most sports, in particular in
swimming and golf. For nine years, he kept himself fit with swim training
and by the time he reached 13yrs of age he had begun to take the
sport very seriously. He was promoted to the South Aberdeenshire Elite
Squad and embarked upon a 20-hours per week training program.
The training was very intensive and extremely demanding, but under the
guidance of head coach (now Scotland's Commonwealth Games
coach) Gary Paterson, James achieved a great deal of success. He
twice competed in the British National Age Group Championships at the
Ponds Forge Arena in Sheffield, and set many district and club records,
some of which are still standing.
Unfortunately, twelve months into his training regime, he found himself
under increasing amounts of stress trying to balance swimming with golf
and schoolwork. In April 2004, he took the difficult decision to focus his
efforts upon a career on the golf course.
He was introduced to the game of golf at an exceptionally young age.
As a toddler at age 2, he would watch his parents (Paul and Siew)
chipping in the garden, and would often join in with some plastic clubs.
At the tender age of 3, he took a trip to Singapore to meet his Mother's
side of the family for the first time.
James soon recognised the value of practice and enjoyed regular trips to
the local driving range with his Dad. During his first year at school, aged
5, he produced his first golf blog.
Having been on a waiting list for six years, finally he gained membership to
Banchory Golf Club at just 8yrs old. At first he struggled to break 120, but
his mum would often take him out on the course and encourage him to
improve.
He eventually competed in his first competition at the age of 9yrs, and
was given a handicap of 28. His technique was improving, and his dad
saw his potential and arranged for James to meet the local pro, David
Naylor, for lessons. His swing got better and eventually he also starting
seeing Inchmarlo pro, Andrew Locke, who had the added benefit of
video technology. Andrew's expertise raised his game to another level
and he has been James' coach and mentor ever since. They have now
been working together for over ten years on all aspects of his game.
James' gained his first major tournament victory in 2007, aged 18yrs, at
the Scottish Boys' Strokeplay Championship at Cardrona. After opening
with rounds of 67 and 69 for a 5 shot lead, James was pegged back by
Scotland team mate Michael Stewart who shot 65, 68 on Sunday to
force a playoff at 14-under. A birdie at the 3rd playoff hole was enough
to seal his victory.
Since 2005, James has represented Scotland at every age group and has
enjoyed much success in the team environment.
In 2006, he competed as part of a six-man team at the European Boys
Championships, where they went all the way to the final before narrowly
losing out to Norway.
Then in 2007, he made his debut for the Men's team, also in the
Europeans, and teamed up with Keir McNicoll in a memorable victory
over England. 2006 also marked his first appearance in the Great Britain
& Ireland Boys' team to face Continental Europe in the Jacques L'Eglise
Trophy, a feat which he was to repeat in the following year.
James' notable success during the summer of 2010 was to finish runner
-up in the Amateur Championship. He also narrowly missed out on a
place in the Open Championship after a first round 64 at the Open Local
Final Qualifier at Kingsbarns. In 2010, James also gained representative
honours for Europe and GB&I as well as receiving the honour of
representing his own country on a number of occasions. James capped
a good year when in October, at the World Amateur Team
Championships in Argentina, he helped Scotland to a 5th place finish,
tying for 4th place individually.
James and his dad spent two years tirelessly investigating and researching
potential universities where James could continue playing competitive
golf, he eventually chose Arizona State University and enrolled in August
2007.
In his debut tournament at Olympia Fields that September, he started with
three straight birdies. His college career was underway and needless to
say his Coach, Randy Lein, saw his potential.
Spending four years on the ASU golf team has been an invaluable
experience for James. He has enjoyed some of the best coaching and
practice facilities in America, and played against top quality opponents
on world-class courses. James firmly believes that his time has a Sun
Devil has given him the best possible preparation for a life as a tour
professional. He graduated in May 2011 with a B.Sc degree in Marketing.
On returning home to the U.K. James main goal was to achieve selection
to the GB&I Walker Cup team before ending his amateur career. James
was honoured to achieve that goal and to add icing to the cake, James
and his GB&I teammates recorded a tremendous win again a very
strong American side at Royal Aberdeen Golf Club in September 2011.
Two weeks before the Walker Cup James was fortunate to receive an
invitation to play in the Johnnie Walker Championship at Gleneagles, his
first European Tour event. A top 30 finish against a strong field, together
with his success at the Walker Cup, convinced James of his readiness to
join the professional ranks.
At a press conference on 19th September, 2011 he announced that he
had turned pro and signed with the world's leading sports company IMG.
He is very much looking forward beginning his professional career and to
achieving further successes on the golf course in the years ahead.
ACHIEVEMENTS
Walker Cup 2011
2013 PGM-CCM Rahman Putra Masters, Malaysia
2014 Ciputra Golfpreneur Tournament, Indonesia.
Glove worn and signed by James Byrne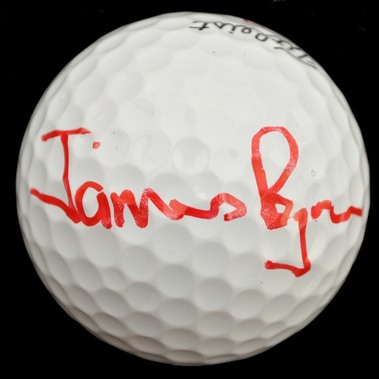 Golf Ball played and signed by James Byrne