Date of Birth - 29 March 1973
Place of Birth - Aberdeen
Turned Pro - 1991
European Tour Profile - Greg Hutcheon
Claimed his third European Challenge Tour title in April 2003, when his
eight under par total of 284 gave him a two shot victory over fellow Scot
Scott Drummond and England's Jamie Little in the Panalpina Banque
Commerciale du Maroc Classic on the famous Red Course at Royal
Golf Dar Es Salam in Rabat. First victory came in the Formby Hall
Challenge in 1999 after a delayed play-off against subsequent
Qualifying School winner and fellow Scot, Alastair Forsyth. Stayed in 15th
place on the Challenge Tour Rankings to gain his European Tour card
that year after Spain's José Manuel Lara missed an eight foot birdie putt
on the final green of the First Cuba Grand Final. Finished 164th on the
Volvo Order of Merit in 2000 and returned to the Challenge Tour where
he won his second title in 2001, the Credit Suisse Private Banking Open.
Learned the game under the guidance of the late Doug Smart, the
Banchory professional who also nurtured the talent of 1999 Open Golf
Champion, Paul Lawrie. Left Banchory Academy, near Aberdeen, to join
the Golf Club on a Youth Training Scheme programme. Took up a golf
scholarship at Lamar University in Texas, where he studied for two years.
Returned to Scotland in 1991 and turned professional four years later,
moving to Knowle Park in Kent where he was coached by Peter Gill.
ACHIEVEMENTS
1999 Formby Hall Challenge
2001 Credit Suisse Private Banking Open
2003 Panalpina Banque Commerciale du Maroc Classic
Srixon Tour bag used by Greig HUTCHEON
Glove worn and signed by Greig Hutcheon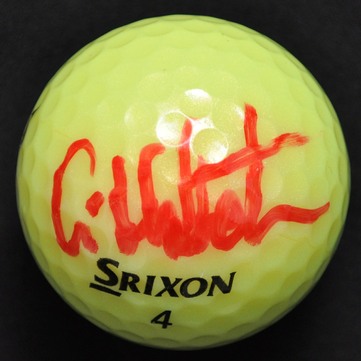 Ball played and signed by Greig Hutcheon