Two signed photographs by Jack Fleck after his 1955 US Open victory over Ben Hogan
Ben Hogan, Jack Fleck And The Greatest Upset Of All Time
By Michael Fitzpatrick
Anyone who is remotely interested in the game of golf has surely
heard of Ben Hogan. However, few have heard the name 'Jack
Fleck' or the story behind his improbable playoff win at the 1955 US
Open which is regarded by many as the greatest upset in the history
of the game.
Jack Fleck was an assistant driving range pro from Davenport, Iowa
who served in the Navy and took part in the D-Day invasion from a
ship off Utah Beach.
Immediately following his discharge from the Navy, Fleck began
Trying to qualify for PGA Tour events around the country while also
making some extra money back at his old job on the driving range.
In 1955, Fleck finally qualified for full-time status on the PGA Tour and
began playing in as many events as he could.
Within six months of qualifying for the tour, this assistant driving range
pro from Iowa would pull off the greatest upset in the history of the
game and arguably the greatest upset in the history of sports.
Fleck grew up idolizing Ben Hogan and as a young boy he
relentlessly tried to imitate Hogan's flawless swing.
When Fleck first joined the PGA Tour, he would follow Hogan during
His practice rounds trying to learn everything and anything he could
about Hogan's process of developing his renowned plans for
meticulously managing a golf course down to the inch.
Fleck was also an admirer of the golf clubs Hogan created and
decided to approach Hogan a few months prior to the Open and
ask him for a set of clubs, a request many pros believed to be
insane; Hogan had a well-known reputation of being a ruthless
competitor who would be highly unlikely to build a set of clubs for
the an opponent.
Maybe it was Fleck's innocent farm-boy persona, or maybe Hogan
was just beginning to ease up during the later stages of his career.
Whatever the reason, Hogan enthusiastically greeted Fleck in person
at his golf club manufacturing plant in Texas and agreed to build
him a full set of clubs free of charge.
By 1955, Hogan was five years removed from his near fatal car
accident and was beginning to near the end of his career. However,
heading into the 1955 US Open, Hogan would still have been
considered the clear favourite to win the event.
Both Hogan and Fleck arrived at the Olympic Club in San Francisco
on the Saturday prior to start of the Open.
When Fleck arrived in the city by the bay to play his first practice
Round, he was astonished to see Hogan walking towards him with
two brand new Ben Hogan wedges that he had created personally
for Fleck in addition to the set of clubs Hogan had already given
him.
"It was just unbelievable, the kindness he continued to show me. In a
sense it's a shame that I used those very clubs to defeat him." Fleck
would later say of this uncharacteristically kind gesture from Hogan.
Back in 1955, the US Open consisted of one round on Thursday, one
round on Friday and a 36-hole finish on Saturday.
Heading into Saturday's 36-hole finale, Fleck was in contention and,
like everyone else in the field, was chasing down Hogan.
While shaving prior to his Saturday morning tee-time, Fleck
experienced something that to this day he attributes to a miracle
from God.
"On Saturday morning before the final rounds, while I was shaving
and listening to Mario Lanza singing 'I'll Walk With God,' a voice
came out of the mirror and said very audibly, 'Jack, you are going to
win the Open.'"
"I was startled and looked around the room. While I was looking
away, the voice came out of the mirror again: 'Jack, you are going
to win the Open!' I got goose bumps, and it was as if electricity was
going through my body. It was all I could do to calm down and do
my stretching and breathing exercises."
After a strong front nine in his final round, Fleck approached the 15th
hole needing to birdie two out of his last four holes to tie Hogan and
force an 18-hole playoff on Sunday.
Fleck birdied the 15th, pared the 16th and 17th, and approached
the 18th hole needing a birdie to tie Hogan.
"I hit my Ben Hogan 3-wood off the tee at No. 18. I had only a 7-iron
left from the fringe rough, and after hitting that to six or seven feet I
took very little time over the putt. I had that good feeling in my
hands and put it in the middle of the hole for the tie," described
Fleck many years later.
Whether you believe Flecks' description of the events that took
place in his hotel room prior to the 36-hole finale on Saturday or not,
there is one thing cannot be disputed: the miraculous Saturday
afternoon charge this former assistant driving range pro from rural
Iowa made on the great Ben Hogan.
Fleck and Hogan would meet on Sunday afternoon for an 18-hole
playoff.
After his miraculous finish on Saturday afternoon, Fleck began to
believe the voice he had heard was indeed a greater force guiding
him to victory, which put him eerily at ease prior to the most
Important round of golf he would ever play.
Hogan, on the other hand was still suffering from the affects of his car
accident in the form of sore, fragile legs that he would need to soak
for an hour and then spend another hour wrapping before each
round just to allow him to physically walk 18 holes of golf.
So, needless to say, an additional 18-hole playoff following the 36-
holes he had just played was not at all what Hogan was hoping for.
On Sunday, Fleck calmly went about his business and carded an
astounding 69 on a brutally tough golf course which was good
enough to beat out Hogan by three strokes.
Hogan's score of 72 would have been considered a superb round of
golf under the circumstances, yet it just was not enough to beat this
assistant driving range pro that shot the round of his life that Sunday
afternoon.
Maybe there was a greater force at work or maybe it was simply a
combination of Hogan's weary legs and Fleck happening to catch
fire at the exact right time; but either way, Fleck's playoff round
score of 69 under the most intense pressure of his career was
nothing short of a miracle.
Fleck would go on to win just two more small PGA Tour events during
the course of his career, while Hogan, as we all know, would finish his
career as one of the greatest golfer of all time.
Hogan and Fleck remained friends and continued to reminisce
about the '55 Open throughout the remainder of Hogan's life.
To this day, Fleck has never strayed from his story about the voice he heard
prior to his Saturday rounds. He continues to believe that there was some
kind of greater force at work allowing him to pull off the greatest upset of
all-time.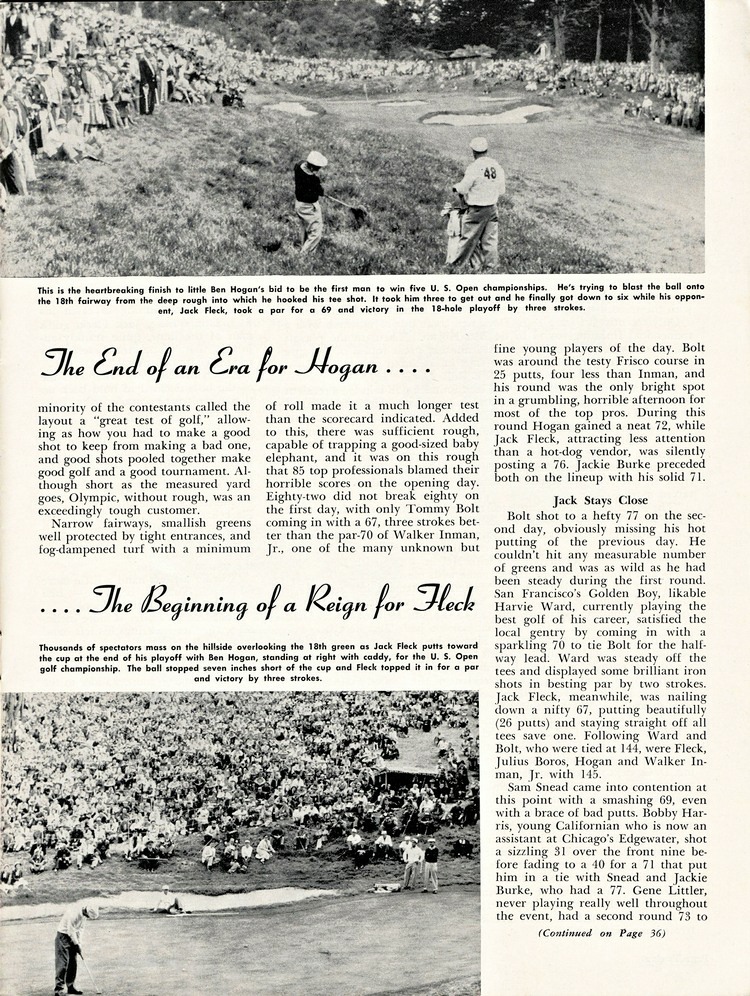 Professional Golfer magazine July 1955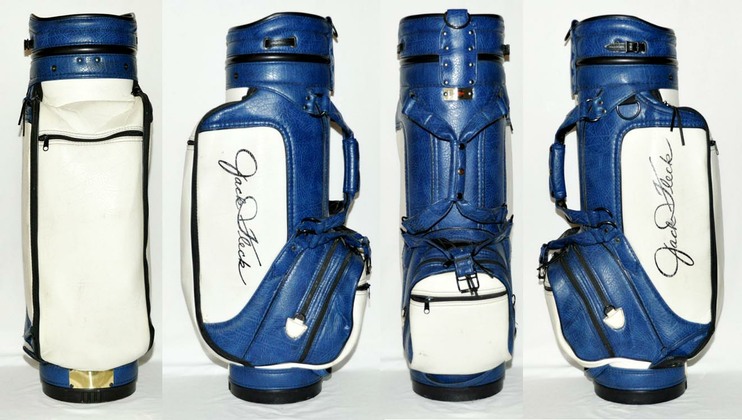 Tour bag used by Jack Fleck
1980 Space Coast Classic trophy won by Jack Fleck
The Senior Tour would have a sub-tournament played on the Friday and
Saturday played in conjunction with the regular scheduled Senior Tour
Event. This was labelled as "Super Senior". Mike Hill won the actual
Senior Tour event and Jack Fleck won the "Super Senior" event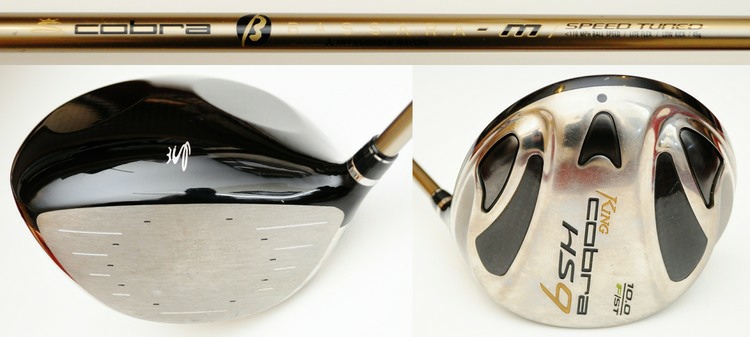 Driver owned and used by Jack Fleck

Wood owned and used by Jack Fleck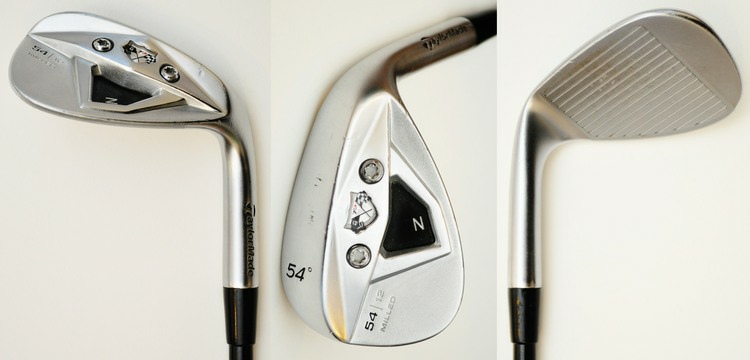 Wedge owned and used by jack Flack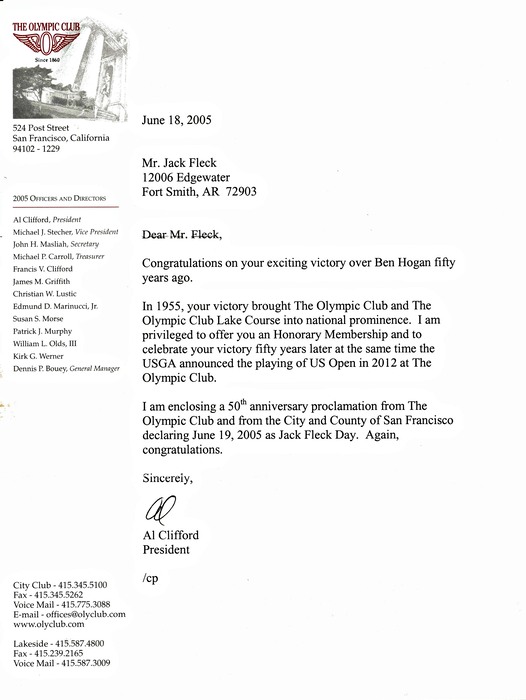 Personal Letter from the President of the Olympic Club (site of Jack Fleck's
1955 US Open victory) to Jack Fleck offering him Honorary Life membership
Shoes worn and signed by Jack Fleck
Glove worn and signed by Jack Fleck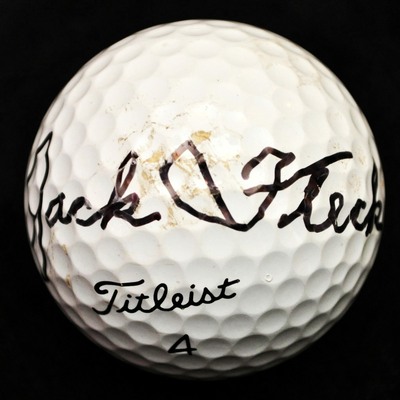 Ball played and signed by Jack Fleck
Jack Fleck's 1st Round scorecard from the 1970 Memphis Open
Marked and signed by Don Massengale
Jack Fleck's 2nd Round scorecard from the 1970 Memphis Open
Marked and signed by Don Massengale
Jack Fleck's 2nd Round scorecard from the 1993 Bank One Senior Classic
Marked and signed by Al Besselink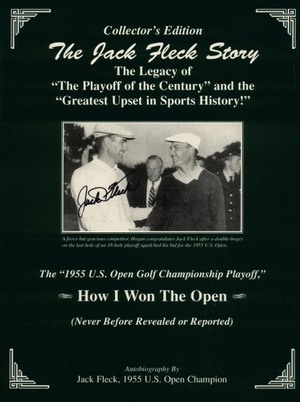 Jack Fleck's autobiography 'How I Won The Open' (signed)
Jack Fleck's book 'The Mental Secret to Better Golf' (signed)