Date of Birth - 24 March 1982
Place of Birth - Edinburgh
Turned Pro - 2006
European Tour Profile - Elliot Saltman
Along with his younger sibling Lloyd, became the first brothers to gain their
cards at the same Qualifying School, securing a place on The European
Tour for the first time in 2011. Both brothers previously played in The Open
Championship together at Turnberry in 2009, where their youngest
brother Zack caddied for Elliot. Watched Lloyd play in The 2005 Open
Championship from outside the ropes, which inspired him to work harder
at his own game. Grew up on a farm and was introduced to golf by his
father after initially excelling at rugby. Finished second in the Fred Olsen
Challenge de España on the Challenge Tour in 2010. Naturally powerful,
has always been a long hitter but had to refine his natural slice by
working with renowned swing coach Bob Torrance. Attached to
Archerfield Links alongside Senior Tour professional DJ Russell. Away from
the course is a car fanatic.
ACHIEVEMENTS

Glove worn and signed by Elliot Saltman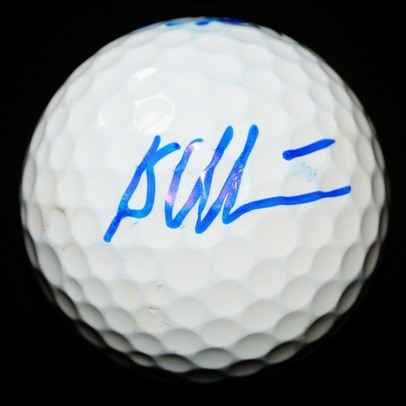 Ball used and signed by Elliot Saltman