Date of Birth -19 March 1975
Place of Birth - Edinburgh, Scotland
Turned Pro - 1995
Website - www.daviddrysdale.co.uk
European Tour Profile - David Drysdale
Drysdale currently competes on the European Tour, having graduated through
qualifying school for the fourth time at the end of 2008. He had previously
qualified for the elite tour in 2001, 2006 and 2007 through q-school, in addition
to graduating directly from the Challenge Tour in 2004, when he finished 12th
on the end of season rankings, largely thanks to a sudden death playoff victory
over Mattias Eliasson at the Bouygues Telecom Grand Final.
Prior to 2009, Drysdale's best finish on the European Tour had been as runner-
up at the 2006 Russian Open. In March 2009, he equalled that when he finished
second in the Open de Andalucia. That result in Spain followed a third place in
the Joburg Open earlier in the season, allowed Drysdale to qualify for the
season ending Dubai World Championship. He finished the season inside the
top 50 on the Race to Dubai, to comfortably retain his card for the 2010
season.
ACHIEVEMENTS
World Cup 2009
2004 Bouygues Telecom Grand Final
2006 Peugeot Challenge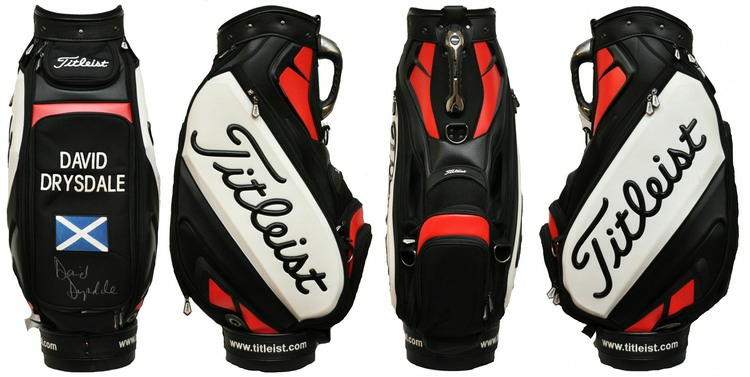 Titleist Tour bag used by David Drysdale- signed
Glove worn and signed by David Drysdale
Ball played and signed by David Drysdale