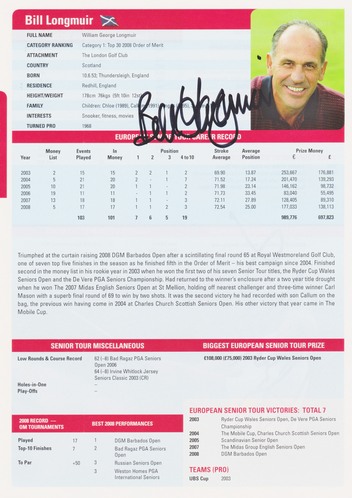 Date of Birth - 10 June 1953
Place of Birth - Thundersley, Essex, England
Turned Pro - 1968
Longmuir was born in England to Scottish parents. Despite having lived in
England all his life, he regards himself as Scottish and is classified as such
for international competition. He turned professional in 1968 and was a
regular on the European Tour from 1976 to 1992, finishing as a
tournament runner-up three times. He made the top 90 on the Order of
Merit every year from 1976 to 1990, which a best ranking of 24th in 1982.
In 1979, Longmuir won the Tooting Bec Cup having shot the lowest single
round by a British player in The Open Championship, with a 65 in the first
round at Royal Lytham.
Longmuir joined the European Seniors Tour in 2003 and finished runner up
on the Order of Merit that year. In 2006 he played on the United States
based Champions Tour after coming through its Qualifying School. His son
Callum, often caddies for him on the European Seniors Tour.
ACHIEVEMENTS
1976 Nigerian Open
1976 Southland Classic (New Zealand)
1980 Nigerian Open
1983 Ivory Coast Open
1985 Nigerian Open
1996 British PGA Club Professional Championship
2003 De Vere PGA Seniors Championship
2003 Ryder Cup Wales Seniors Open
2004 Charles Church Scottish Seniors Open
2004 Mobile Cup
2005 Scandinavian Senior Open
2007 Midas English Seniors Open
2008 DGM Barbados Open
2010 Handa Senior Masters
Glove worn and signed by Bill Longmuir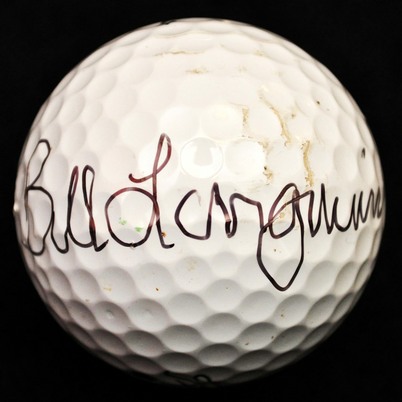 Ball played and signed by Bill Longmuir
Bill Longmuir's 1st Round scorecard from the 1981 Bob Hope British Classic
Marked and signed by Warren Humphreys and Greg Rogers

Bill Longmuir's 3rd Round scorecard from the 1981 Bob Hope British Classic
Marked and signed by Ewen Murray and Ivan Weston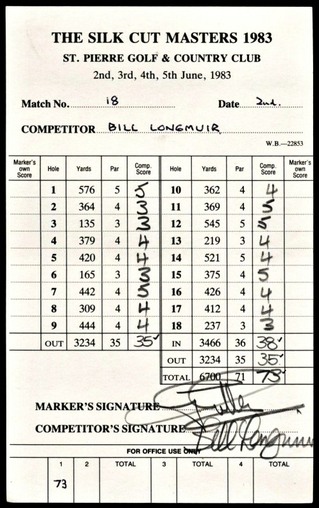 Bill Longmuir's 1st Round scorecard from the 1983 Silk Cut Masters
Marked and signed by Gary Cullen
Bill Longmuir's 4th Round scorecard from the 1983 Silk Cut Masters
Marked and signed by Christy O'Connor Jr