Date of Birth - 1936
Place of Birth -
Turned Pro -
Robertson won the British Ladies Amateur Golf Championship in 1981 and
the Scottish Ladies Close Amateur Golf Championship seven, times as
New Zealand Championship in 1971. She was one of the first golfers to
realise that keeping fit was important in order to play the game. She
understood that general exercise, and simple bending and stretching
could improve her performance. Robertson had an unorthodox swing
but her putting ability and powerful striking of the ball made her a
fearsome opponent. Robertson helped Great Britain to win the Curtis
Cup in 1986. She had been on the runners-up side eight times before this
victory.
She went on to record no fewer than seven Scottish title wins (in 1965, '66,
'71, '72, '78, '80 and '86) surpassing Valentine's haul of six.
Having twice lost in the final (in 1965 and1970) Robertson went some way
to emulating Anderson's achievement when she won the British Ladies
title in 1981 at The Conwy course in Caernarvonshire. The final against
Wilma Aitken was a tight affair with Belle finally emerging as the victor at
the second extra hole.
Her stroke play record was even more impressive as she lifted the Ladies
British Amateur championship on three occasions, in 1971 and '72 and
then again, after a thirteen year gap, at Formby in 1985. She also won
the Scottish Ladies Stroke Play title three times; the last success in 1986
marked her as the oldest ever winner at the age of 50.
ACHIEVEMENTS
Curtis Cup
British Ladies Amateur Golf Championship 1981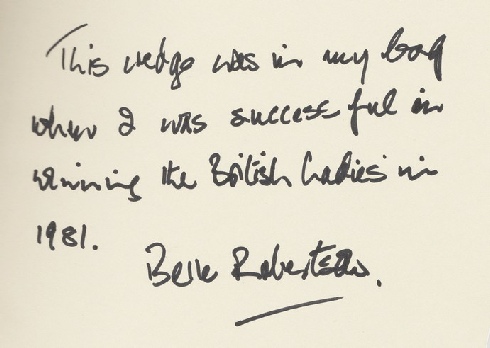 Mizuno wedge used by Belle Robertson when she won the
British Ladies Amateur Championship in 1981
'The Woman Golfer - A Lifetime of Golfing Success'
written by Belle Robertson