Date of Birth - 27 January 1953
Died - 19 May 2008
Place of Birth - Glasgow
Barclay Howard was a Scottish amateur golfer. He was regarded as one
of the finest golfers of his time and considered a folk-hero. He has had a
lifetime relationship with Cochrane Castle Golf Club in Johnstone,
Renfrewshire.
Howard can probably be best described as a true amateur. Working a
regular work week and playing golf in his spare time. He might have
been a top professional. He was a leading figure in Scottish and British
amateur golf. Over the years he has won more than a hundred
amateur tournaments.Howard played in the Walker Cup twice, winning
in 1995 at Royal Portcawl. He has also played in the Eisenhower Trophy
for Scotland.
In 1997 he won the silver medal for leading amateur in the Open at
Royal TroonIn his latter years, Howard was a leading figure in the Scottish
Golf Union.
ACHIEVEMENTS
Walker Cup 1995, 1997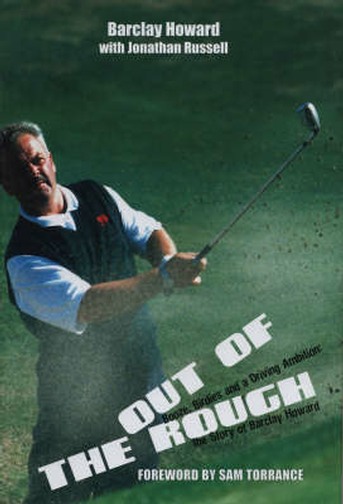 Howard Barclay's autobiography
'Out of The Rough - Booze, Birdies and Driving Ambition'
'Barclay Howard could hardly see for the tears of pride in his eyes as he
lined up his putt on the final green of the Open at Troon. The jovial Scot
had won the coveted Silver Medal for the championship's leading
amateur - but it was the extraordinary story behind his triumph which
gained him worldwide fame.
Barclay Howard overcame years of alcoholism and a ban from the game
he loved to reach the pinnacle of his career. "It was the greatest
moment of my life", he admitted. Finally, after years of battling his
demons, he was on top of the world - but that world was about to be
cruelly torn apart yet again. Just six weeks after those incredible four
days at Troon he was diagnosed with leukaemia. In the months that
followed, the pain from his chemotherapy treatment became so great
he even begged his sister to help him die. With the love and help of his
wife and young daughter though, he has now beaten
a second killer illness and has his eyes set on another crack at Open
glory. In "Out of the Rough", Barclay describes with humour and honesty,
the highs and lows of his life on and off the course - as well as in and out
of the bar. His story is both terrifying and heart warming, but first and
foremost it is a tale of human courage'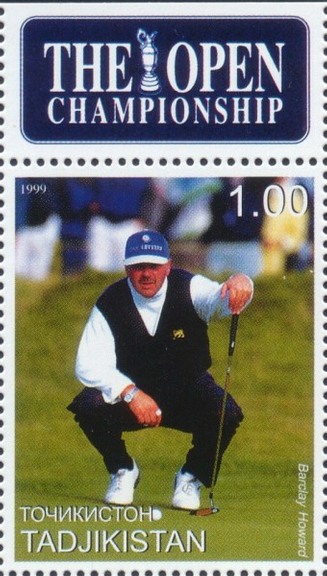 Official Postage Stamp from Tadjikstan featuring Barclay Howard