Date of Birth - 5 February 1976
Place of Birth - Glasgow
Turned Pro - 1998
European Tour Profile - Alastair Forsyth
Alastair Forsyth was a member of a winning Great Britain & Ireland
Jacques Léglise Trophy team in 1994 and he won the 1996 Scottish
Amateur Stroke Play Championship.
He won the MasterCard Tour Order of Merit in 1999, having won the St
Omer Open Championship (not a European Tour event at the time)
during the season.
Forsyth has played on the European Tour since 2000, after winning the
qualifying school in 1999. In his debut season, he just missed out on the Sir
Henry Cotton Rookie of the Year award, which went to England's Ian
Poulter. His best season to date was 2003, when he finished 19th on the
European Tour Order of Merit. His first tour victory came at the 2002
Carlsberg Malaysian Open and his second came at the 2008 Madeira
Islands Open BPI - Portugal.
In May 2008, he overtook Colin Montgomerie to become the highest
ranked Scottish player on the Official World Golf Rankings. He tied for
ninth place in the 2008 PGA Championship.
ACHIEVEMENTS
World Cup 2002, 2003, 2004, 2008, 2009
Jacques Léglise Trophy 1994
1996 Scottish Amateur Stroke Play Championship
1998 Scottish Under 25's Championship
1998 Scottish Assistants Championship
1999 St Omer Open Championship
1999 Scottish Under 25's Championship
1999 Scottish Assistants Championship
2000 Scottish Closed PGA Championship
2002 Carlsberg Malaysian Open
2008 Madeira Islands Open
Callaway Tour bag used by Alastair Forsyth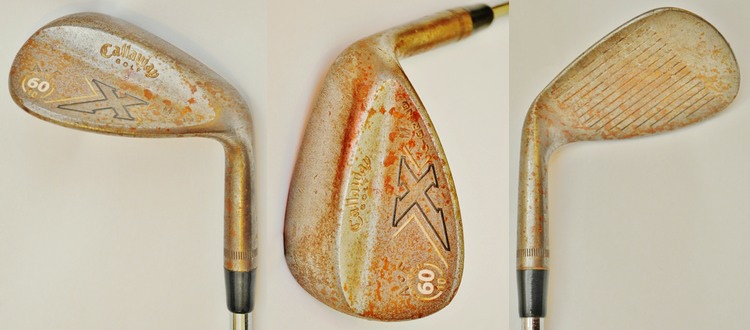 Callaway X Tour Wedge used by Alastair Forsyth (engraved 'A.F')

Glove worn and signed by Alastair Forsyth
Ball played and signed by Alastair Forsyth